This time I will show you how to get the most out of just one day in New York. If you have the time to have a layover in New York or you might be in town for a business trip and get a few hours free time, go out there and take a walk! If you follow this route – you will see a lot of this City that never sleeps just within a few hours time.
How to start the morning?
Go for a Run at Central Park. You will definitely not regret it and I promise you, all the other runners will push you to new limits.  There are so many people out there very early, crazy and also encouraging!! After that, get ready and deserve a goooooood breakfast. It would be best to start your tour latest at 9.30am, to get the most out of the day.
First take the metro to Brooklyn, (e.g. stations: borough hall or court street) find your way to the east river and take a little walk along the Brooklyn Heights Promenade north to Brooklyn bridge with a beautiful view of the Skyline of Manhattan.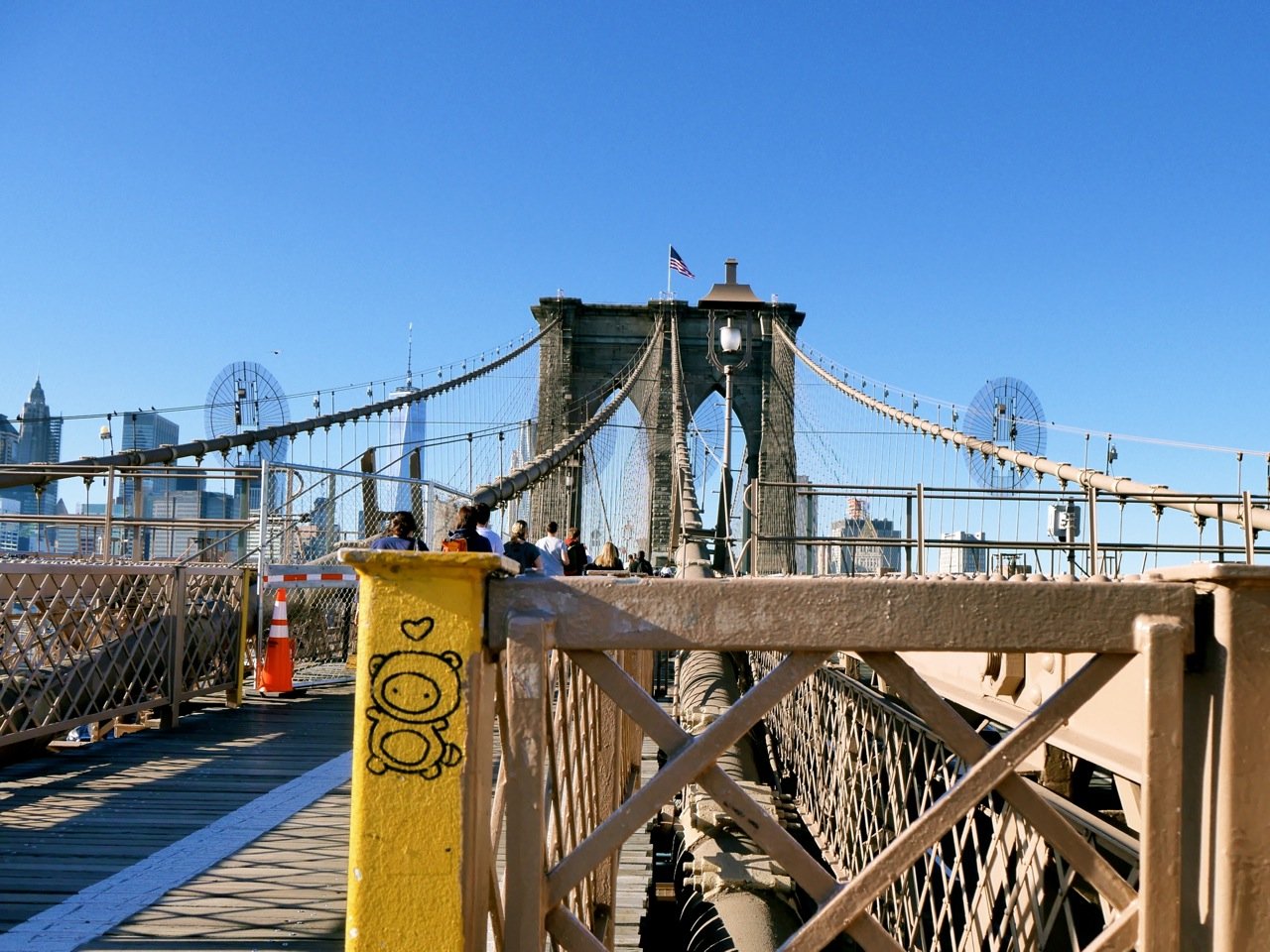 When back in Manhattan the 9/11 Memorial is to your left (south). To me, visiting that place felt like stepping into another world, a calm place in the middle of busy New York. It seemed like everyone felt reverence to that place and to what has happened. There is a tribute tour, which is "told by those who were there" which are highly recommended. I personally wanted to make sure, that I at least spend some silent minutes there, reflecting on what happened (not only at that place, but around the world) and leave it with a positive wish for the world.
The FDNY memorial wall: "A 56-foot-long and six-foot-high bronze bas-relief memorial bolted to the side of the firehouse, a memorial to the 343 firefighters who gave their lives in their effort to save others on September 11."
Moving on south
Just a 10 minutes walk away, you find yourself in the Financial District, with the famous Wall Street, the Trump Building as well as the Charging Bull. You might not see it as so many people standing around taking pictures – so I don´t have one for you. It is a symbol for "those who wish to sing always find a song" and stands for those coming from all over the world and achieve their goals successfully.
As this day is so fully packed and I really wanna write down how to get from one point to another and not just do a bullet point list, I now have to tell you, that for the rest of the day you have to change to PART 2 🙂
Looking back I had a long list of what I wanted to see and do when I am in New York and obviously – as I already revealed in my New York kick-off entry – I did not mad it all, but even though I wanted to give you the shortcut what I had on my list, in case you hand´t read it yet!
Here you find my other blog posts about New York: