Wait! To have the ultimate walking-sight seeing tour of New York start with the first part, because this is the "second part" of the day. You haven´t read Part 1? Here you find it 🙂 So if you just have one day do discover that impressive city, here is how you make most out of it.
When following south you will soon find the Battery Park where I would recommend to sit down, and to eat one of the famous New York Hot Dogs. 😉 Afterwards, the next stop is right next to the park:
The Staten Island Ferry is an absolute MUST and I will tell you a little secret: not only is it for free, it also offers a stunning, unique view on the New York skyline and the Statue of Liberty. So: where, when and what exactly?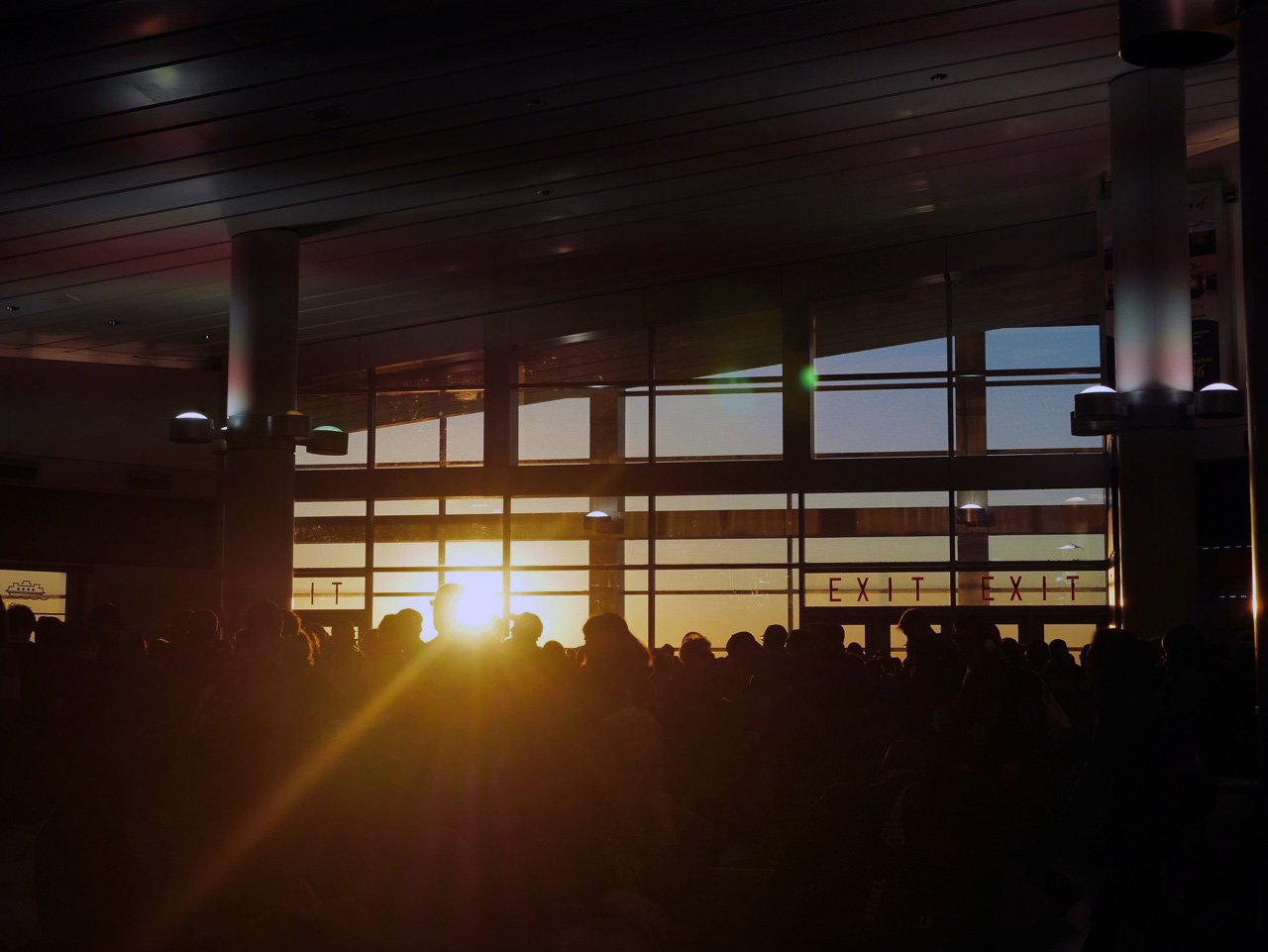 When to take the Staten Island Ferry how to see most
The best time to take the ferry depends on what time of the year you are in New York. Ideally you enter the ferry shortly before the sun is going down, so check for that first. And what is even more important is – where to have the best view: when leaving Manhattan go down the steps and stay on the deck of the ship. When leaving the Island back to Manhattan leave the main part of the ferry to the left side (the side of the Statue of Liberty). Voilà:
Afterward you can catch some food in China Town or little Italy – or my favorite place at Greenwich Village 🙂
There are three things, that you definitely should not be missing, if you want to see even more: Grand Central Station the (Ice Skating Rink at) Rockefeller Center and Times Square. All of that is quite close.
So take the metro to the Grand Central Station and from there on you can walk to Rockefeller Center and last but not least Times Square before enjoying on of the world-famous musicals at Broadway.
I went to see "Finding Neverland – the story of how Peter became Pan" and WOW – i loved it! To me it was worth the money – but this is something everyone has to decide for themselves 🙂
Of course there is a lot more to see and do in New York, there is ALWAYS something new to discover! This is also one reason why "I haven't done it all" in one week and why soon I will tell you what´s on my to-do list for the next time! Moreover you find a list of what I wanted to do here 🙂
—–