You are about to plan your city trip for autumn or even already spring? A little bit of sun at the Atlantic ocean – good wine, friendly people and beach? Porto is the up-and-coming city in Europe, recently in development and has a lot to offer! Here is what to do when taking a few days off and enjoying the Portuguese flair.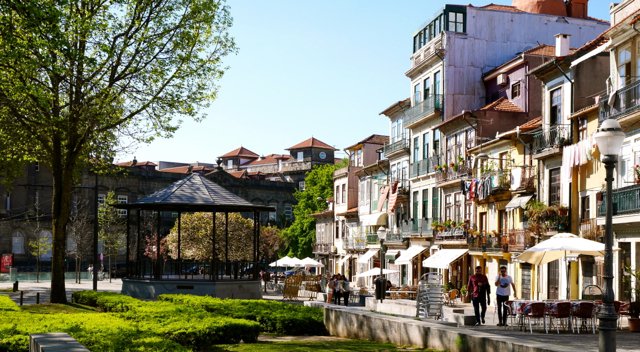 Don´t underestimate Porto, as it is "only" the second largest city in Portugal, because this beautifully located city is an all-rounder, as you haven't seen it for a long time! When I was in Lisbon in April this year we decided to take the train up to Porto. The train ride is comfortable and along the coast (you can imagine me – starring at the ocean while passing through beautiful small villages!) It takes you about 3 to 4 hours and trains departure frequently.
So here is what we did within 48h of Porto:
What I loved most while I was a teenager? Harry Potter! For that reason I was thrilled when I read, that part of the books was written here and moreover inspired by this city. And I love books. So the decision was made. I had to see Livraria Lello e Irmão, one of the world's most beautiful book stores. Next to it, there is the park Jardim de Joao as well as the Praca de Lisboa – read more about this architectural must see here! Also very close you can find the Igreja da Nossa Senhora do Carmo das Carmelitas.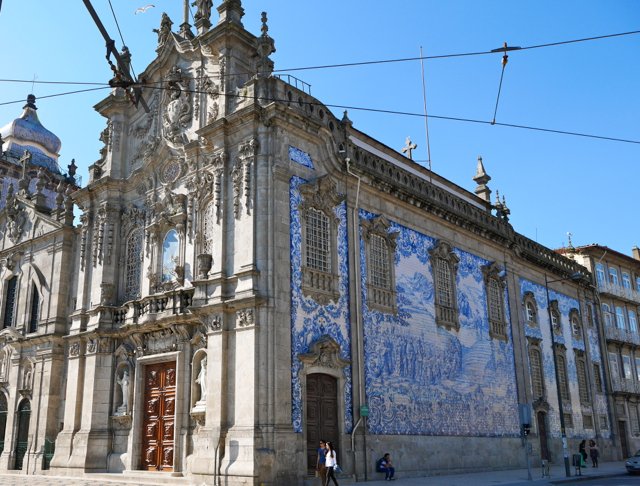 As in Lisbon, we joined a pub crawl tour and got lost – AGAIN! But also met some inspiring people – and that´s what I like most of those random groups of people. You might get to know someone you never thought of meeting. Hear their stories, reflect their thoughts, chat and laugh a lot (and wake up having headache 😀 )
On our second day, we took one of the free walking tours, given by a student for whatever the tour is worth according to you. He showed us the São Bento railway station, which is well known for the stunning fresco at the Azulejos, the classical blue tiles in the entry hall, which tells the story of Portugal. (20.000 tiles!!!!)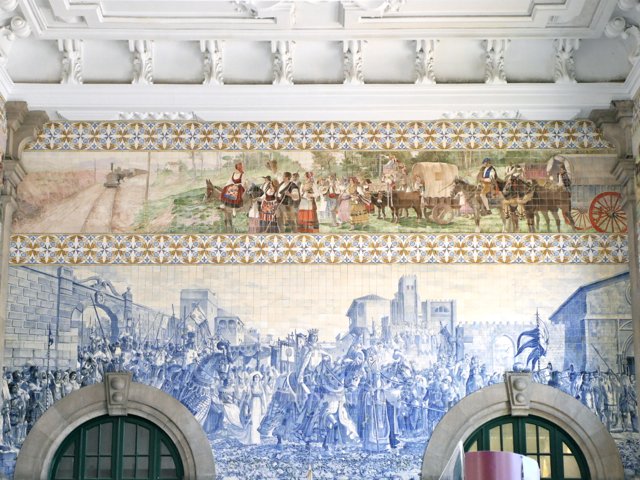 The student-tour guide also took us through the Ribeira – the old town of Porto and told us an interesting story: Although the houses may look like they are about to get pulled down, they might look good inside. When you stroll across the old city parts you see a lot of rotten houses but also some of those tall narrow buildings tiled in all colors of the rainbow which I ADORE! As we strove across the city through narrow streets up to the Cathedral of Porto, which you see in the left corner here:
What Porto is most known of for sure is the port wine. Just across the Ponte Luís I bridge the famous wine cellars are located along the Rio Douro and open their doors for tastings.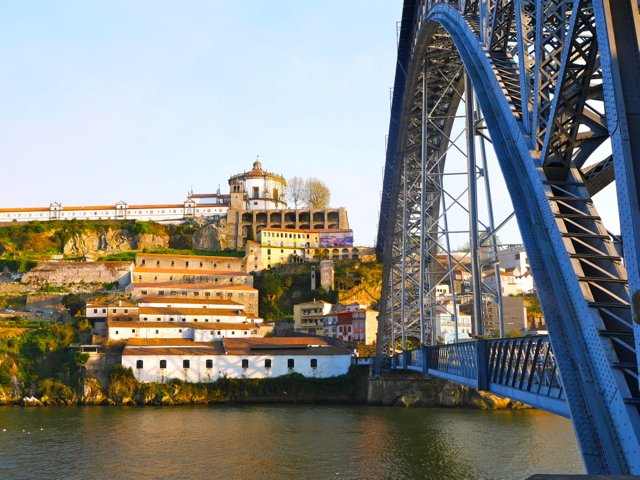 Just like Lisbon, the city is hilly (does this word even exist? 😀 ) and as we already had three days of walking in our feeds, our legs were hurting as hell. But we fought! 😀 and got awarded with hidden parks with different levels where we took some rest.
The perfect ending of a trip? Having sand beneath my feeds and smelling the salt of the sea. Just one old fashioned tram ride away (tram line 1 runs along the riverfront toward the ocean, but you can also take the bus) is the beach, where bars offer food and drinks with a stunning few to the ocean. After running into the ice cold water we had a hot chocolate and just watched the North Atlantic Ocean. These are the moments I adore, the silence I love, moments that inspire me.
Another fact I didn´t know – there a lot of direct flights going to Porto – check out checkfelix.com! What did you do in Porto? What do I have to do when I am around again?