Imsouane, a little fisherman's village, located north of Taghazout and south of Essaouira, is about to become the new surf & holiday mecca in Morocco. And there are a lot of reasons why. I am giving you 10 – just as a little tast of the beauty of this place.
In January 2019, when we were traveling Morocco in our self converted Cempervan, I spend three weeks in that lovely little town called Imsouane. This is when I fell in love with the flair there. Although there is a lot of construction and building going on, it is not too late to check out this little surf heaven.
It wasn´t too hard finding 10 reasons why I love Imsouane, so here they are:
1. The Viewing Platform
You will most likely enter Imsouane from the south, coming from Agadir Airport. (Generally, there are only 2 roads to and from Imsouane, one from the north, one from the south. We entered from the north, coming from Sidi Kaouki – and left to the south) This is also where you can find the best viewing platform looking down to the bay. It is so beautiful seeing the lines slowly making their way into the Bay. We also stayed up there a couple of nights. It is worth getting up in the middle of the night to see the stars – and we were lucky enough to get a glimpse of the blood moon!
2 & 3 The Surf – Bay & Cathedral
The surf in Imsouane is just perfect for all different levels. The Bay is home to one of the longest waves of Morocco – rolling slow and steady from the port to the beach. Once you had one, you are hooked forever. Although it is home of sooooo many surfers at low tide, you can also stay a little bit back and take the ones after a little section. I loved surfing mysteries at high tide though, but it took me a while to get used to the spot – as always.
The spot Cathedral usually pics up a little bit more swell, and I liked surfing this break when the Bay was just too busy for me. Take care of the rocks underneath – as you surf it at high tide. I only surfed the reef Cathedral (left-hander) once, when it was super small, but it was fun as well! 🙂
To get ready for your surf holiday make sure to check out my Yoga for Surfers Online Course!
4. Fishermans vibe
There are a lot of people in the water, but often this is because some of the surf schools from the south come up here on small days. Imsouane has still kept its fisherman's vibe, hosting a lot of boats in the harbor but we´ll see how long this will still last. After we´ve been crossing a lot of towns on our way through Morocco I can say, that Imsouane is still smaller than most of the other towns, but I am sure, that it will grow fast.
5. Rocks and sand dunes at cathedral bay
Any better place to watch the sunset than from the dunes or cliffs overlooking the Ocean? When you face the ocean looking to Cathedral Bay, follow a little path on the right-hand side to discover beautiful dunes and rocks, shaped by the water and wind. Take the stray dogs on the way with you, they will love you for that!
6. Ims´ONE Project
Speaking of Dogs: We came across her project through Instagram and loved it from the very first second on. Ims´ONE Project is a French association that is taking action for the stray dogs in Imsouane. Collecting money to get the dogs vaccinated and sterilized. If you wanna send some help, you can do so through their fundraising page.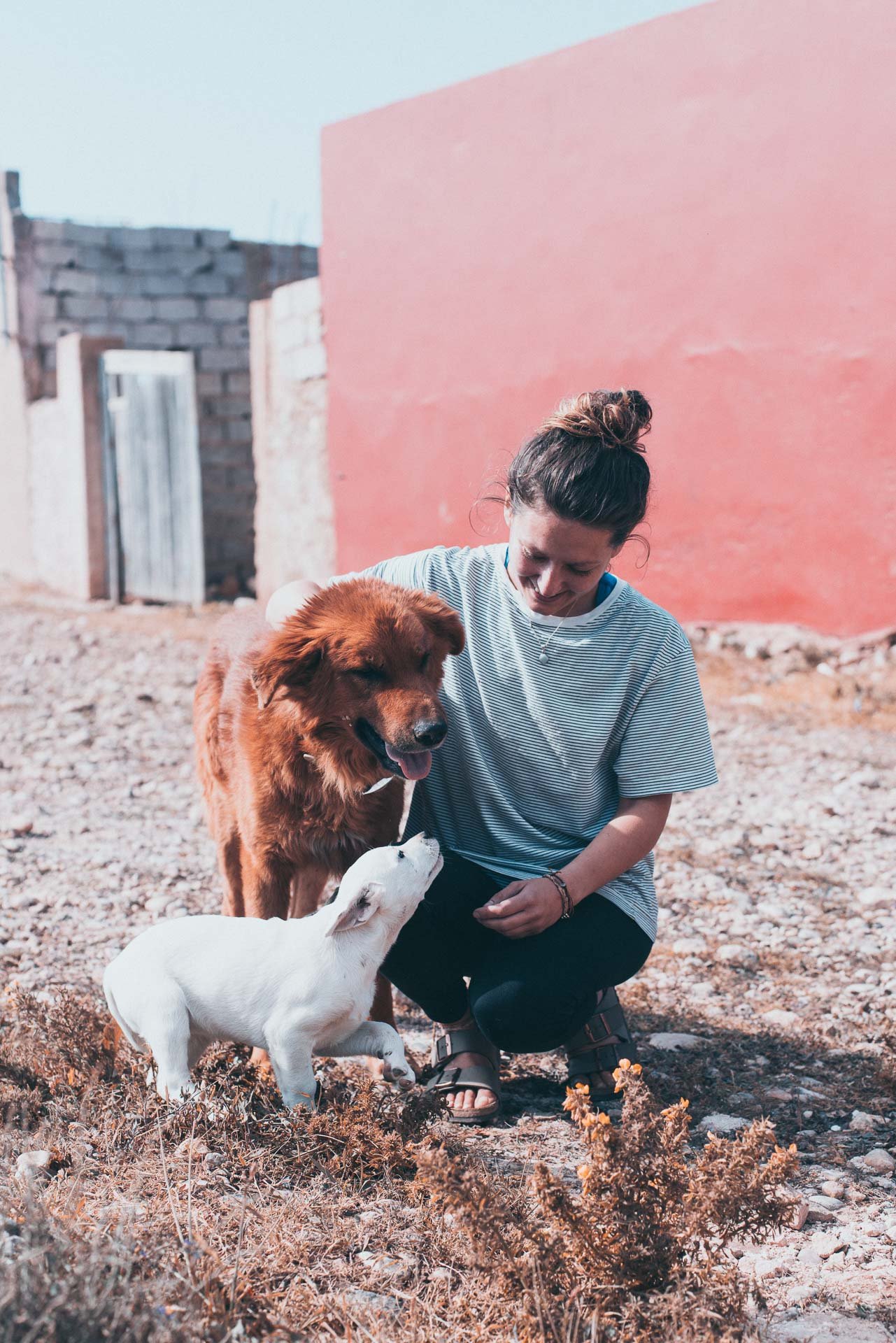 7. Smoothies at Olo Surf Nature
Wanna enjoy the view over the bay and a good coffee and/or smoothie? Go check our Olo Surf Nature! First I did not know, that you can just walk in and have a drink or food there, but in my last week, the girls introduced me to that little secret of theirs 😉 The smoothies are super yummy and the coffee strong and short – exactly how I like it!
8. The Yoga Shala at Sandycamps
During my stay in Imsouane, I was teaching Yoga at Sandycamps. One of the things I loved most about it, besides all the students, is the Shala. It´s not usual for a surf camp to be equipped with a Yoga Shala (and a lot of terraces of course). It can hold up to 12 students – which is a decent amount of people I think – and a good group size to be manageable for one teacher – to be still able to focus on every single one of them – at least a little.
You can also join the classes there as a drop into the group or book private lessons!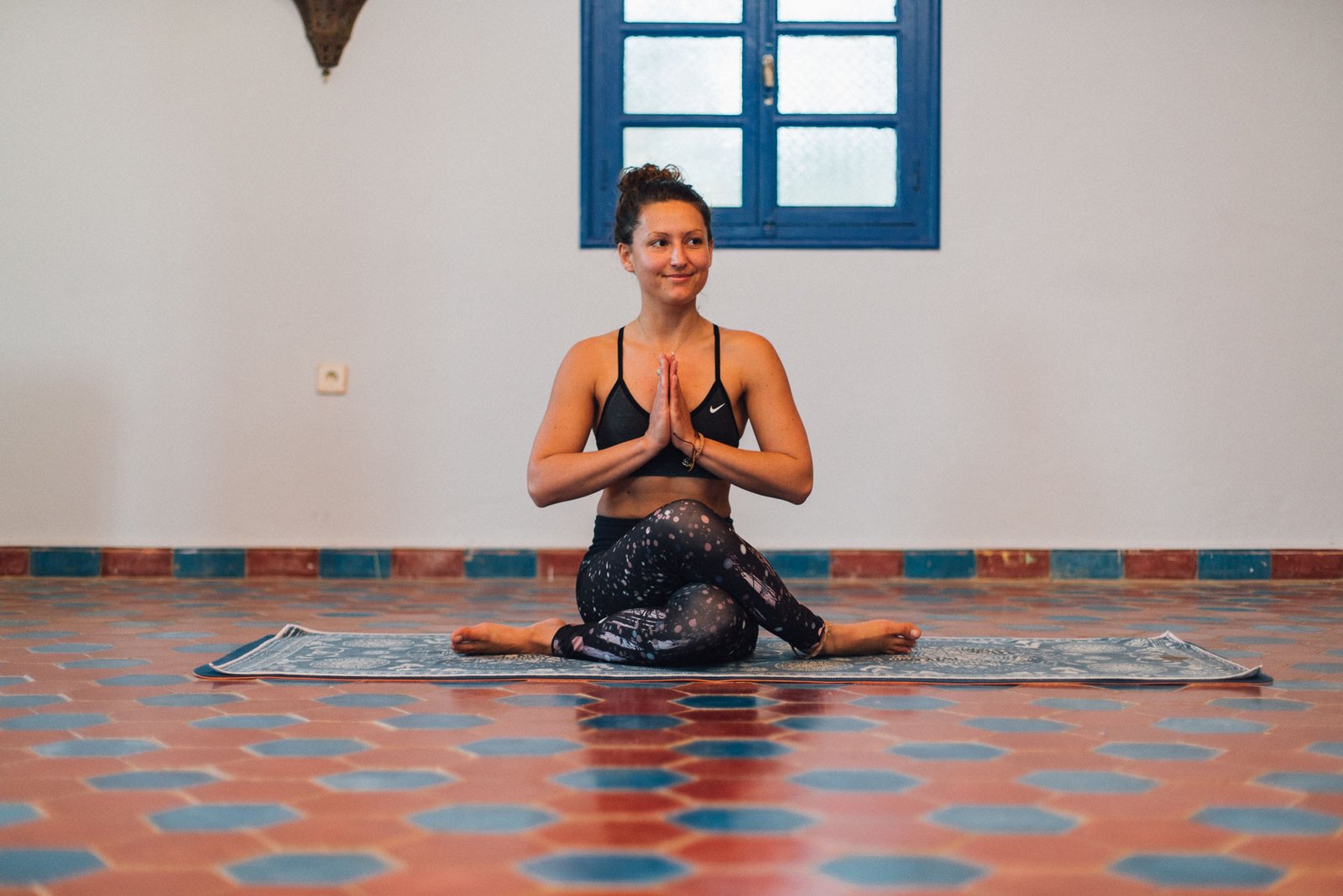 9. Imsouane Surf House
Moroccans are generally well known for their friendliness – but the people in this house made us feel so welcome, that I simply need to mention it as the very first thing about the house. But that´s not the only thing why it made it to my top 10 list. Also, the house is newly renovated and everything is super clean. The guys invited us in for coffee and offered us usage of the showers, as we often parked close to their house when we went for a surf. If you are looking for a laid-back atmosphere, your own kitchen to use, a nice big chillout area indoor and outdoor, then Imsouane Surf House is your place to stay.
10. The Cafe / Taco / Pizza Place
Last but not least, you must try the tacos at "the Coffee House". We got it recommended from various people and new, that´s a place we needed to check out. Not only are the tacos great and the crepes filled rich with Nutella, but also the staff was very humble and kind. The Coffee House is a small place – just recently they added tables and seats. They offer strong wifi and coffee as well as nice fruit juices and traditional Moroccan tea. A must-visit!
Some tips when going to Imsouane
First of all: there are no ATMs! Make sure you have enough cash on you, to pay for your accommodation, food, surf rental, or whatever you are planning to do there!
There is a lovely little town, just north of Imsouane, where we went to the souk – as shopping is a little bit more expensive in Imsouane! If you are planning to cook for yourself, you can consider doing a bigger shopping at the souks before you enter Imsouane.
I am sorry to say: but Imsouane is not a secret anymore, there is a lot of building going on there and I am not sure how long it can still hold on to the idyllic vibe that it has.
When there is no wind, and you have a car – you should definitely check out Sidi Kaouki. Have a good time traveling to Morocco!
All pictures are taken by Andreas Weiss.