Most of you might have "somehow" noticed, that I´ve been working at
Rapturecamps
in summer 2016. The first question I get? Have you been teaching surf? Ähhhhmm.. NO I was not a surf instructor 😉 I was kind of a bloody beginner. The second question I get is: HOW IS THE CAMP? and How did you like working there? First things first, so …. as
my last
surf camp review (about the
Lapoint Camp in Sri Lanka
) was and still is one of the most read posts on my blog, I wanted to give you a review on this camp as well. Of course, I am not gonna be writing my point of view. So I asked some of the guests that stayed there during the season I´ve been working there and this is what they said.
Accommodation/Location
Most of the people really liked the dorm rooms as they are not too crowded. Rapturecamps in Ericeira offers 4 and 6-bed dorms. All of the rooms have at least a window and some even a balcony with a view to the surf spot. Also, you can rent out private (double or twin bed) rooms or if you are a group of people a whole apartment. The only downside of the rooms is, that they do not have a locker to store your valuable stuff. BUT it is not common that something got lost, and if, you could easily find it in the lost and found box 🙂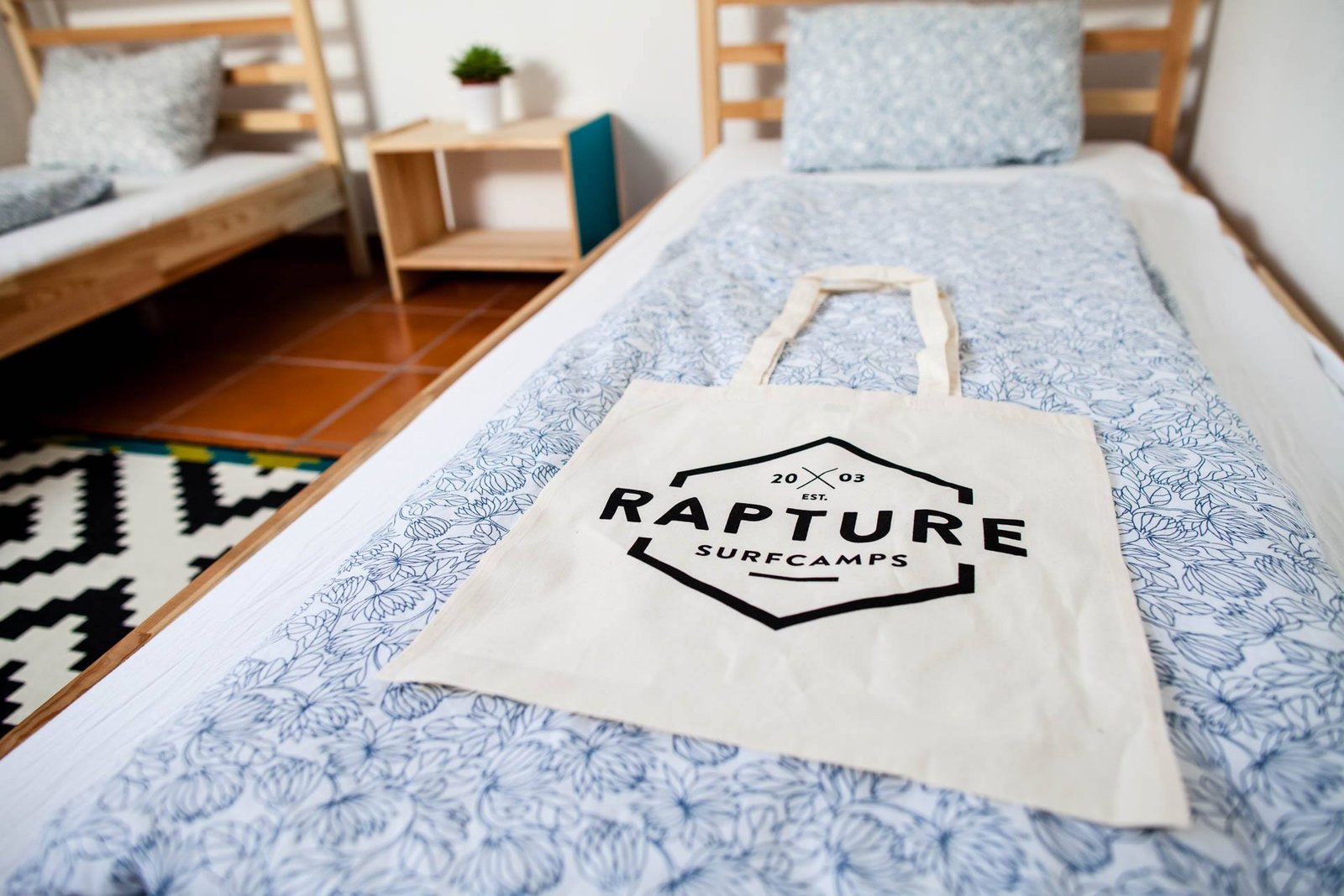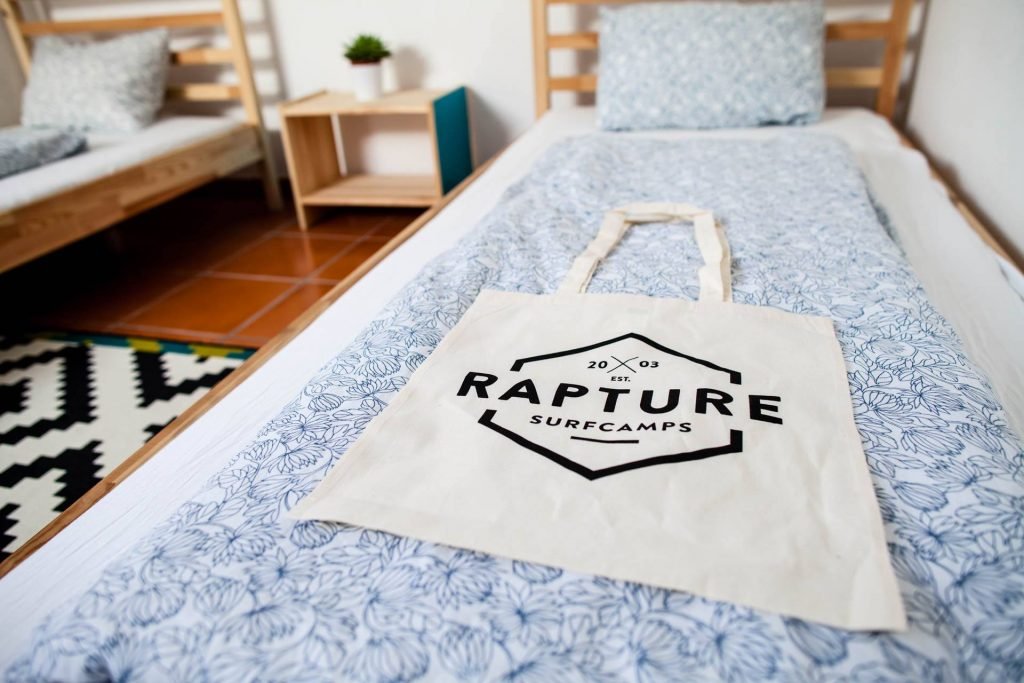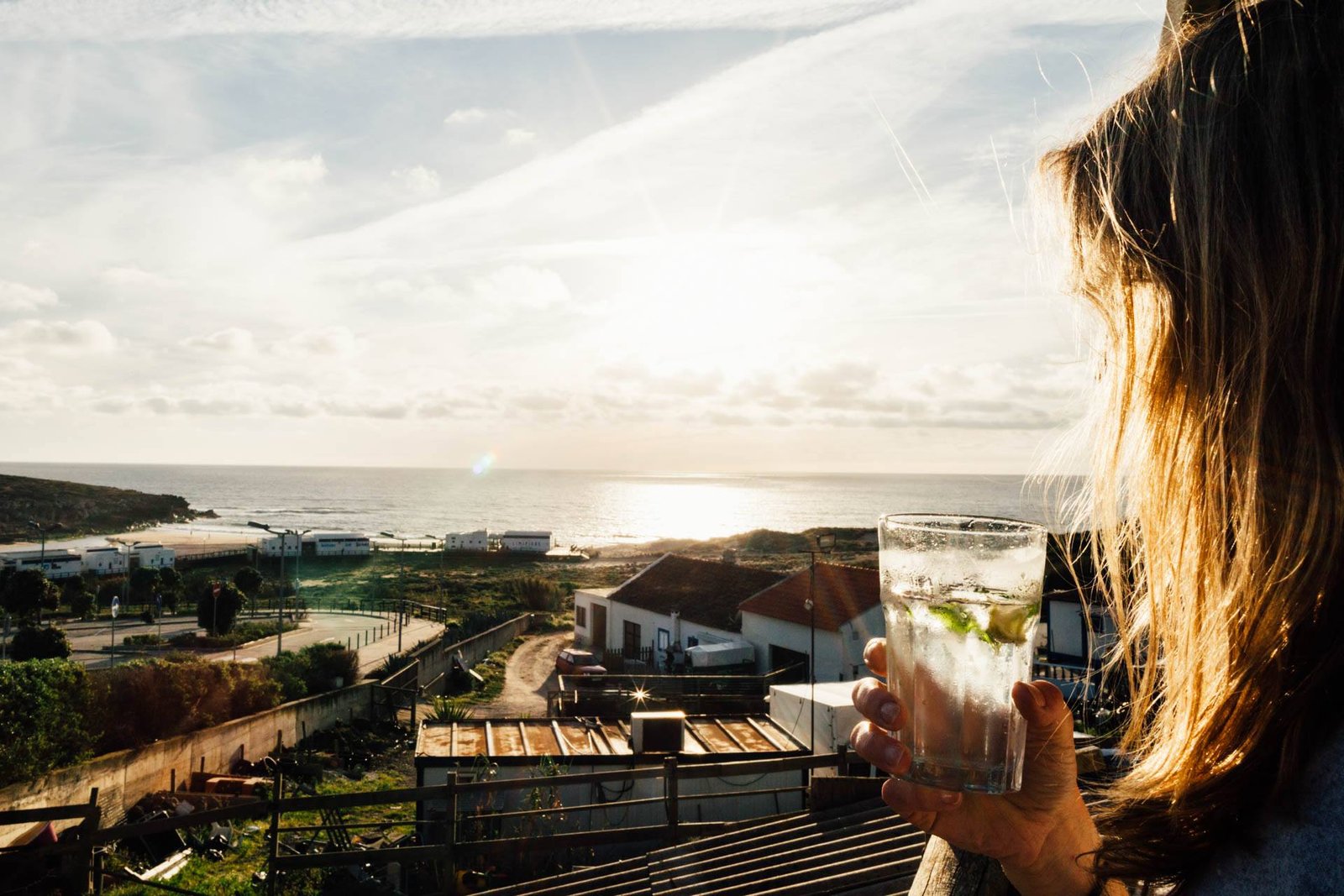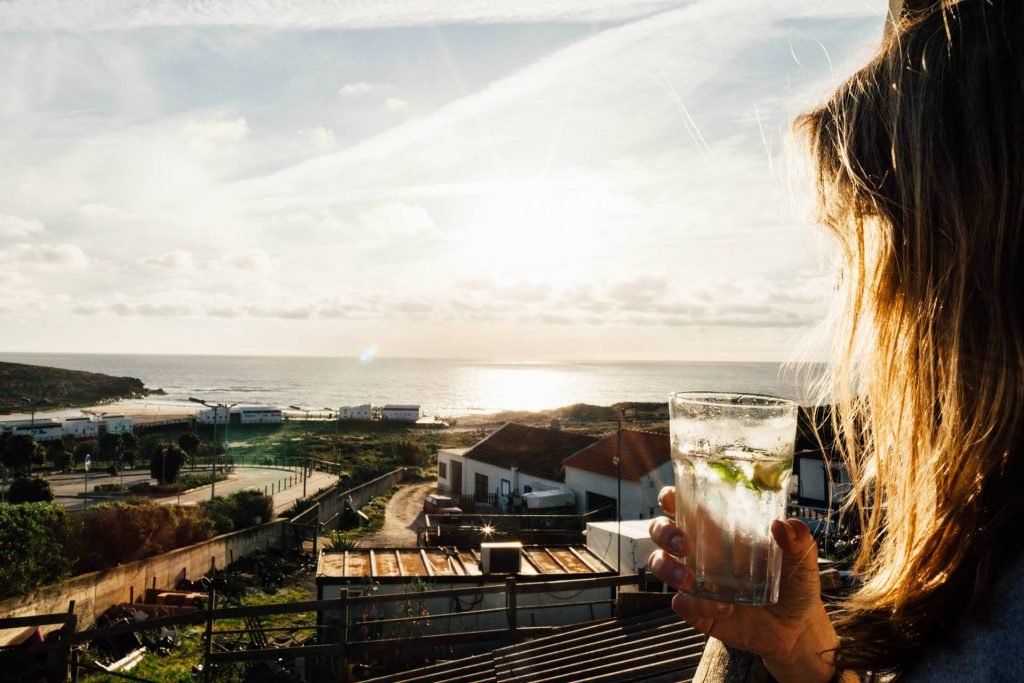 Also, the location of the surf camp has been rated very positively. Just take your board and walk down to the spot – Foz de Lizandro. To the city, it will take you approx. 20 minutes if you walk but you can simply take one of the bikes or skate- and longboards – FOR FREE 😉
Moreover the camp offers two big outdoor chill-out areas with comfy fatboys and a lot of pillows to hang around after the surf.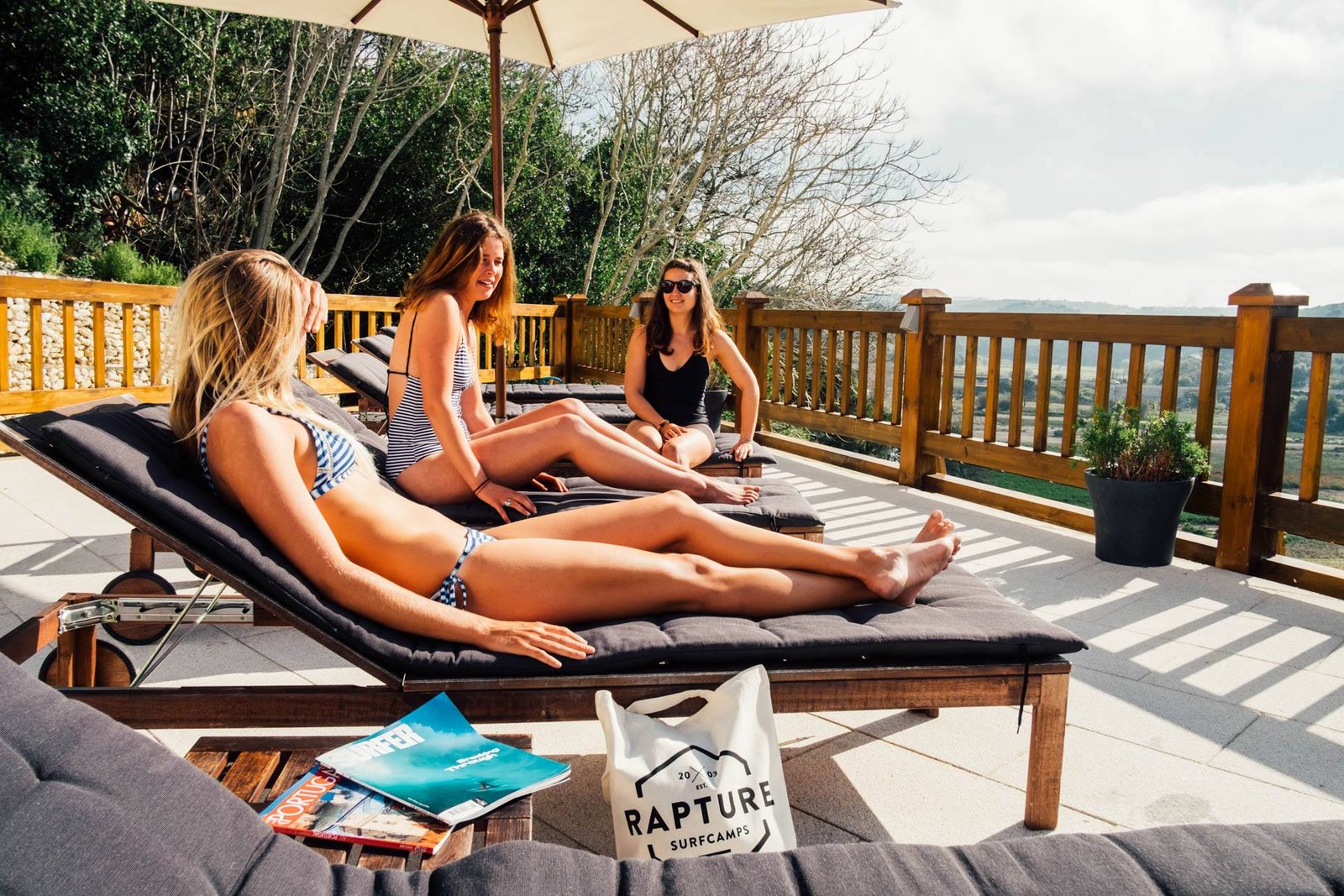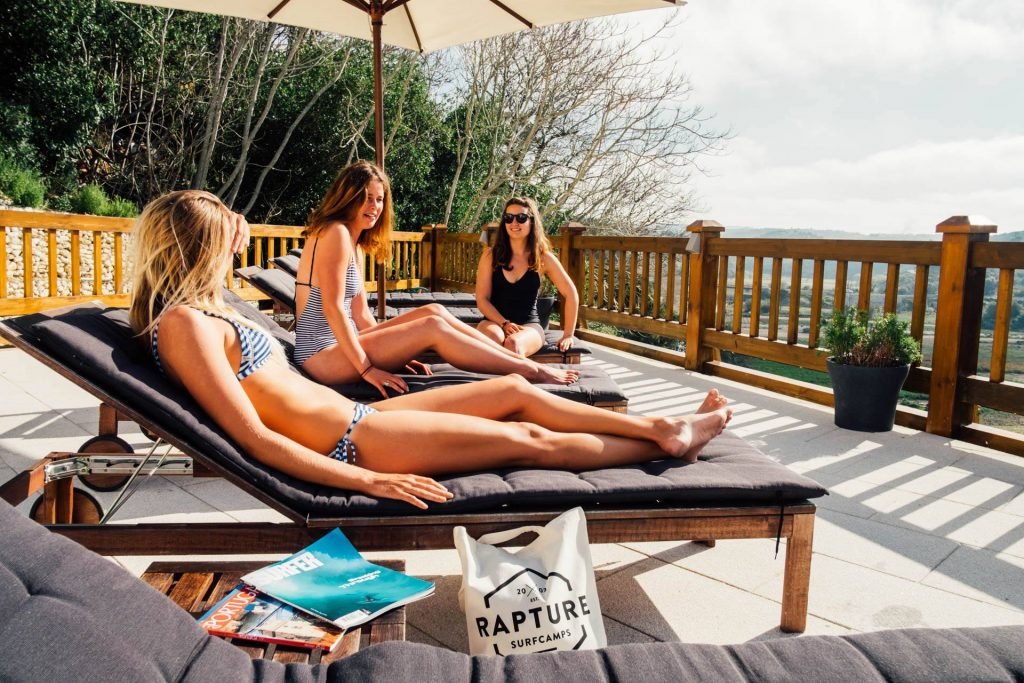 Food/Drinks
Looking at the reviews on
TripAdvisor
, you might notice, that most of the applause goes to the food. What everyone was sure of, was that the food is extraordinary good. They simply loved it and as I ate it every day (for the duration of 7 month!) I wanna add – I loved it too!
The Breakfast is served as a buffet and has everything your tummy craves for: Fruits, Cereals, chocolate flakes, juices, tea, coffee, milk, yogurt, bread, chia seeds, dryer bananas, and much much much much more! PLUS: there is a daily breakfast special. I liked baking a cake and even got mentioned for that on TripAdvisor 😉
Dinner is included from Monday to Friday and cooked by professional chefs, what makes the guests super happy. "Especially for vegetarians dinner was versatile, tasty and nutritious." Saturdays BBQ or Burger time is on – Sundays the staff drives the guests into town so you can have dinner out.
Note: you are not allowed to use the kitchen as a guest, but there is a fridge you can store your snacks. Moreover there is a fridge with soft drinks, beer and wine as well as ice cream. Simply help yourself and make a telly at your name on the board.
Surf -equipment, -lessons, -spots
In 2016 new boards arrived and as I went over to visit in June 2017 the new wetsuits made their way in. Given the fact that it is a surf camp, a lot of guests are the beginner to intermediate and use a soft top-board. Hardboards, however, are available as well. A surf lesson is 30 Euros a day, including wetsuit and board (10,- each: lesson/boards/wetsuit). The lesson is 2 hours in the water and the equipment can be used the rest of the day as well. More experienced surfers enjoy the surf guiding to the best spot of the day (which is 5 to 10 Euros)
Additional Activities
Twice a week Yoga and Massage is offered for which you can just sign up until the day before and is held by Victor from "here and now Yoga".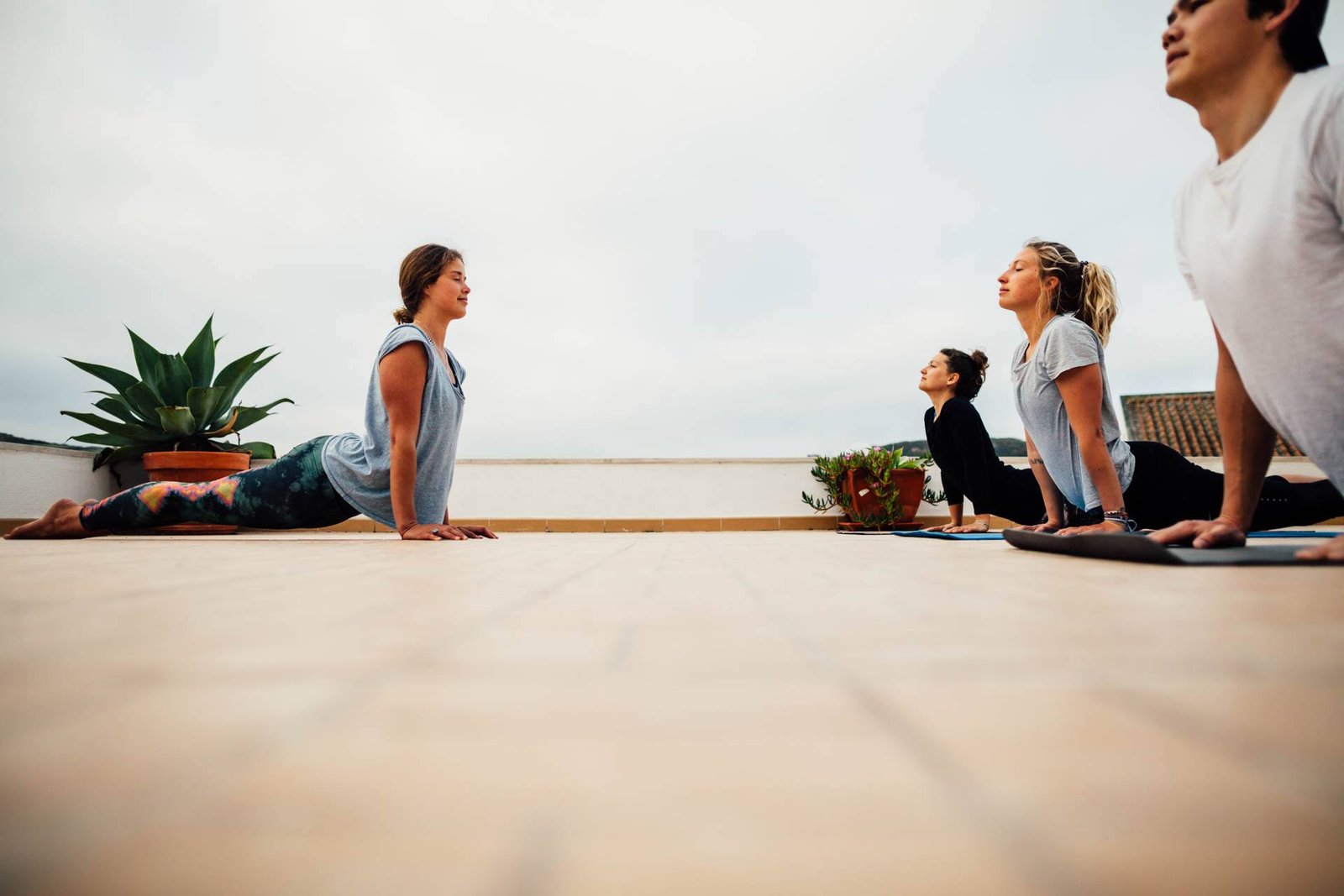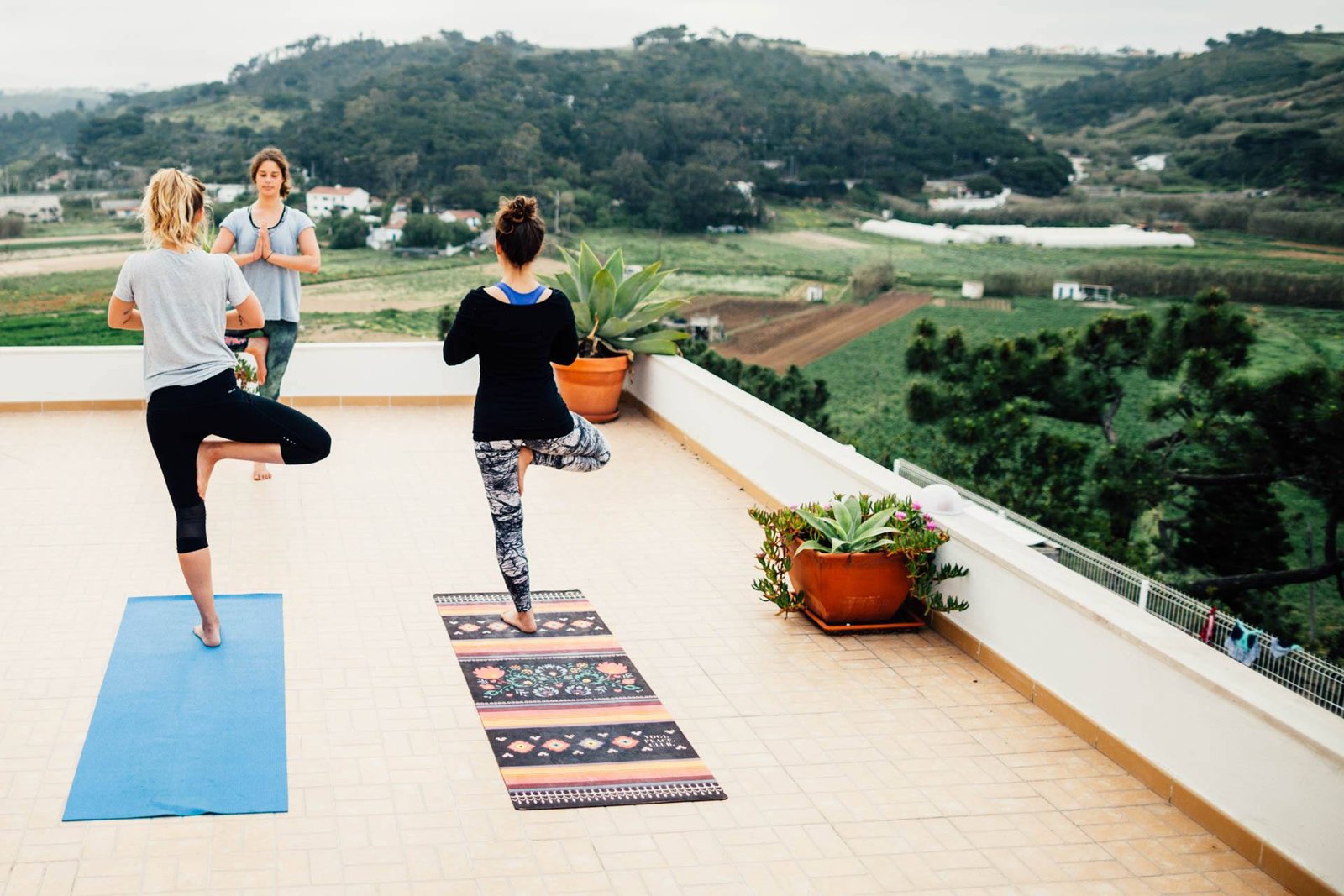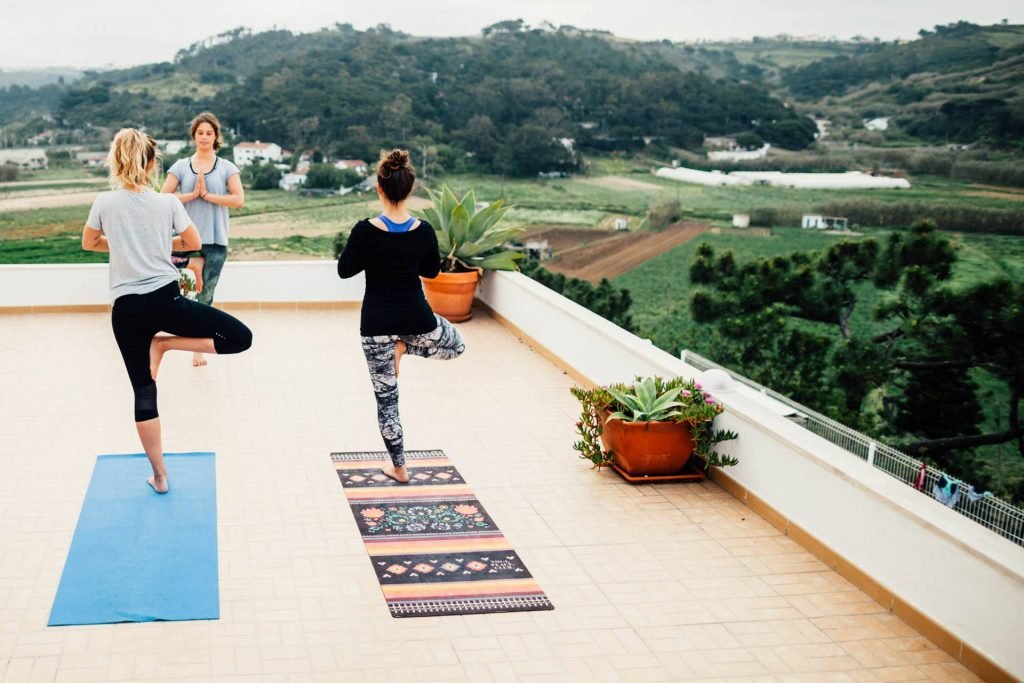 During the week there is the party for those who want to – and the staff goes out as well regularly. 😉 The best nights are Wednesday, Friday, and Saturday, but more about going out in Ericeira in another post!
Sundays there are no surf lessons so sometimes trips are organized such as to Sintra for example. In October we also went up to Nazare and saw some big waves surfer – so impressive!
staff/employees
Hmmm… what should I say 😉 I was one of them! The staff is like a family. Living together, eating together, surfing together … always there to help you and is gonna make sure you are having an amazing time!
Most/least liked
"What I liked most was the vibe at the camp, other guests & staff were very friendly and relaxed. What I liked least was eh … I guess the distance to Ericeira. But seriously no big deal. Only thing missing is a pool."
Thanks to everyone who answered my questions 🙂 and special thanks to Hannah, who wrote a whole blog post herself about the Rapture Surfcamp in Ericeira, Portugal which
you can find here
.