As I´ve been volunteering in the Rapture Surfcamp in Ericeira Portugal, I thought I wanna give you some insights and a review on the camp. Therefore I asked several people who stayed there in 2016 and put up this post for you. Additional Hannah wrote so many details, that I decided to add a second review post, just with all her thoughts. Thanks, girl for your effort, I really appreciate it!
My thoughts on Rapture Ericeira
Heya! My name is Hanna and I had the pleasure of staying at Rapture Surfcamp in Ericeira, Portugal last spring. When Kate asked me to put down into words my thoughts and feelings on the place I wasn't late to say yes – always happy to help a fellow surfer girl out!
I've been surfing (or trying to surf, forever the learner haha!) for about three years and just like many others I quickly became hooked. It's an addiction. Once you've felt that complete calm and focus you get in the water, and the total elation of catching your first wave, you're stuck. So for a few years, I spent every little break I had at a surf camp, and when that wasn't enough anymore I took a long break from my studies to chase the waves for a couple of months.
Having been to quite a few surf camps by now, I gotta say I love the concept – take a house close to an accessible break, fill it with like-minded, surf-crazed, wave-hungry people, feed them good food in the evenings and voilà – here's your surf camp! You get all the information you need about the local surf PLUS a bunch of new friends all in one package. Amazing!
However, there are surf camps and surf camps. Especially if you travel alone as a woman, these differences can become quite important if you're quite sick of the macho man vibe that goes on in some camps. The same goes if you travel on a budget – you want to make sure that you get the best possible experience out of your hard-earned money.
So without further ado, let's dive into my experience at Rapture!
The Accommodation
The Camp is situated on the outskirts of Ericeira itself, just on the side of the road that leads down to a break called Foz do Lisandro. It's a traditional, white Portuguese house with stone floors and lots of outdoor space to hang out in the sun. From the front porch, you can gaze out over the sea to see what it's doing first thing in the morning.
I was there in April so it was still pretty cold in the mornings/evenings but tbh I don't mind much. Bring a sweater and you'll be fine! I shared a double with my boyfriend and although the room was small, it had a wardrobe and a table where we could put our stuff and it was quite comfortable. Also, there was a little welcome package with a cool Rapture-tote and water bottle waiting for us on our beds and I think it's small little extras like that can make a difference J Bathroom was shared with an adjacent dorm, which was empty during our stay (because it was so early in the season).
For me, staying close to a good break is a massive must. It just makes it so much easier to sneak a surf whenever it looks inviting, without having to plan a lot or pack a bag or load up a car. So staying close to Foz was awesome! Down on the beach, itself were also a couple of cool bars where you could kick back with a post-surf drink or a lazy second breakfast.
The Camp has several bikes (In good condition!) that they will happily lend you if you want to go into Ericeira. It takes 10 minutes and is a comfortable ride. Ericeira is adorable and offers some souvenir shops, plenty of skate/surf shops, dinner, bars, and the best coffee place EVER just off the little square above the harbor. Go there on a sunny day and watch the elderly people gossip in the sun while you enjoy a freshly baked Pasteis de Nata.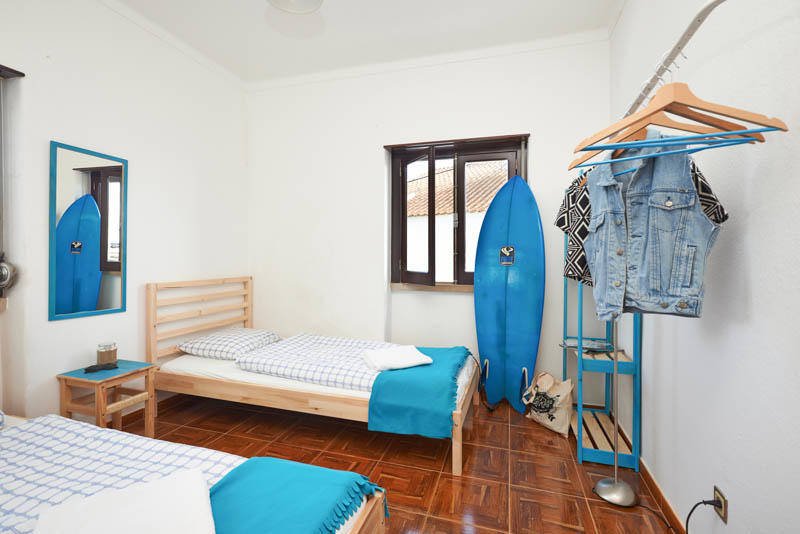 The Food
For any keen traveler, food is an important part of the experience, and even more so if you are burning a million trillion calories every day trying to get behind the line of a beach break. At Rapture, breakfast and dinner are included in your stay (breakfast every day, dinner Mon-Fri), and let me tell you, it's goddamn delicious. Chef Mikey sure knows his stuff and serves up the most amazing, nutritious food you can imagine. The Tripadvisor reviews were raging about this and the hype is real. Vegetarian? Food allergies? No worries, Chef Mikey always finds a good option for you. Lunch can be found at the beach bars 200 m away or in Ericeira at your own cost.
Breakfast was a real treat too! They had a cool müsli bar, yogurt, fresh fruit, bread rolls, cheeses, hams, veggies, and some kind of breakfast special every day. My favorite was the banana bread, closely followed by the pancakes. Served up as early as 7 am for the early birds who want to get a head start on the day.
The Surf
Both my boyfriend and I had previously stayed at the Rapture Camps in Bali (Padang Padang and Cliff), and there they offer to guide for those who need transport and spot guiding but who get along without an instructor in the water, and they take you to different spots based on your level of experience. So initially, we thought it'd be the same in their Portugal camp – there'd be an appointed person who knows the area and its spots and sets up the transport depending on the conditions for the free surfers.
However, this didn't quite work out as we planned. Some of the hosts had only just arrived for the season and hadn't yet become familiar with the spots (understandably so). On top of that, the vehicle for the purpose had some problems and was out of commission for a few days. Normally this isn't a big deal but if you've got a limited amount of time on your hand, you want to use every single day the best way possible and missing out on the action isn't fun. We soon rented our own car which gave us all the flexibility we wanted. Furthermore, it made it opened up new possibilities for surf on the days that the wind wasn't good for the spots in Ericeira but perfect for Peniche, an hours' drive away up north.
There are SOOOOOO many surf spots around Ericeira. They've even made it a world surfing reserve, which speaks for itself. Foz do Lizardo right outside the camp was a bit fickle during our stay, sometimes offering perfect intermediate conditions for me, with waves about head high. And other days, the swell was huge and the strong rips made it hard to stay in position. If that doesn't take your fancy rest assured – one of the 15 other breaks within a 20-minute drive will probably have what you are looking for 😉
Although we didn't take any lessons we still sometimes ended up surfing the same spots as the others and got to hang out with the instructors and they seemed like they really knew their stuff. Lessons were 2-3 hours long, and the instructors took care to go to whatever spot offered the best learning conditions of the day (which is crucial!), and all the equipment was included. Here I want to add an extra gold star to the camp because the gear they offered was really top quality all the way from the wetsuits to the surfboards. It really does make learning so much more enjoyable when you're not freezing your butt off because your wetsuit has a big rip in the back 😀
I will say that I was there during low season before the summer crowds come rolling in. I rarely shared my waves with more than 7 people but I imagine it could get crowded during the summer, especially since there's a Lapoint camp just up the road.
Another thing to take into account is that almost all the spots around Ericeira take a hit when the wind is westerly, which is not uncommon in the spring. This can be a nuisance on windy days. The solution is, again, rent a car and check out what Peniche can offer.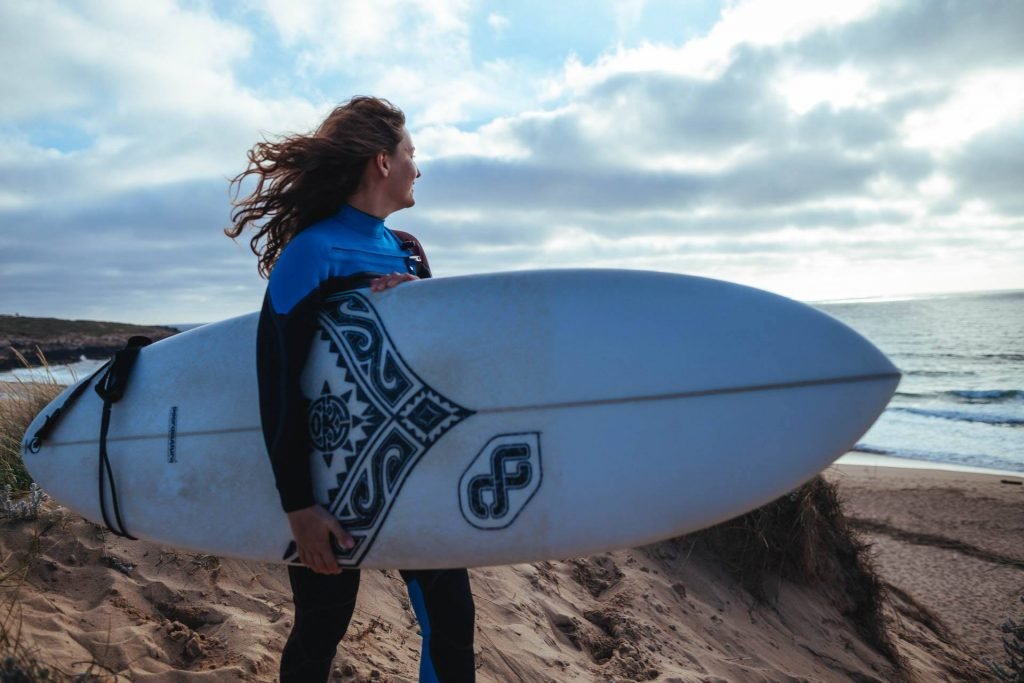 The Rest
At this point, I want to give a huge shoutout to the staff! What an amazing bunch of people! I immediately felt like part of the family and everyone made sure that we had everything we could ask for. Most of the staff was Austrian/German but the language was never a problem – everyone stuck to English to make sure no one was left out of the conversation. Also, I loved the fact that there were a lot of girls working there, sometimes surf camps can get a little too macho for me and I hate it when I have to tone down my female side, or my vulnerable side, just because the environment doesn't really allow for it. In some camps, there's also this idea that you always have to be happy and stoked but the truth is, everyone has bad days and that's ok. In this camp, I felt so free to be myself and accepted for who I am and what I am. Seriously, so much love for this crew <3
The vibe of a camp was what really makes it and these guys nailed it. There was always something happening – people going for a skate, a bike ride into town, sunset drinks, a game of table tennis. And you're always invited! I'd definitely recommend this place for any solo travelers out there because there's no way you can feel lonely in a place like this.
Also on offer was daily yoga classes with instructor April, as beautiful on the inside as on the outside. And for the party animals out there, I know the camp puts on BBQ nights during the summer with a chance to let loose enjoy the night lights.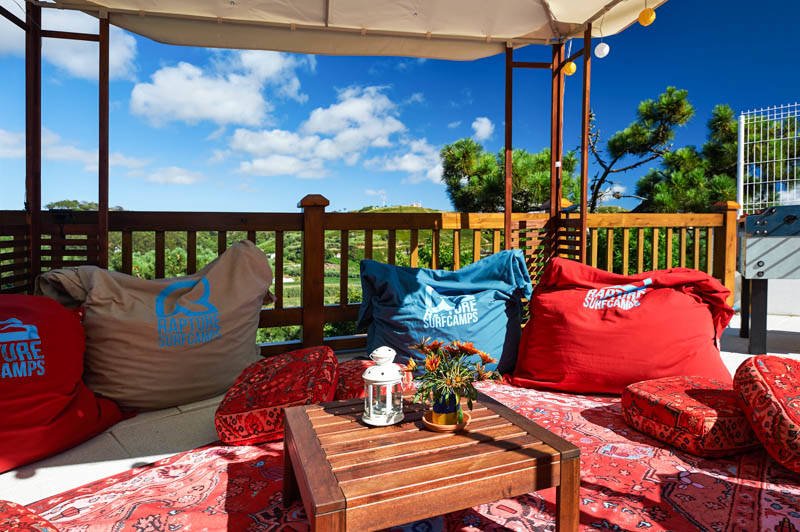 Money Matters
Constantly traveling and chasing the surf means I'm pretty much always broke and I try to make my money last for as long as possible wherever I go. At the same time, the cheapest option is sometimes not the best because you end up compromising the quality of the stay itself and that is no good.
I'm happy to say that Rapture Ericeira was worth every single cent I spent. We paid 80 EUR/night for a double, including the meals and that really isn't expensive at all. Dorm rooms (sleeping 4 to 6 people) were even cheaper at 29 EUR/night. So if you're a money-conscious traveler don't sweat it.
They also have an honesty bar with snacks, beers, and soft drinks and I found the prices reasonable there as well.
To Sum it Up
Honestly, I ask myself why I haven't returned already. This place has a good location, good food, and good people. The surroundings are just beautiful and so is the surf.
If you are a free surfer and you want to make the most of what the coast has to offer I suggest renting a car to give you access to more surf spot options.