Leave everything behind, pay no more rent and just live in the van. Life can be so easy – and also much cheaper. But how much does living in a mobile home really cost? Is it worth it, to leave everything behind, is there even a difference in the monthly expenses? We collected all the expenses for the month of December, in Spain and Portugal for you and listed them here for you. So here we go, I am finally gonna answer the question you are longing for: How much money do we spend living in the van?
Where are we…
To help you understand the costs below, here are a few details about our stay in December: Since December 1st, 2018, my boyfriend and I now live together in our self converted campervan. Until the middle of the month, we spent our time in the Algarve, in southern Portugal, then the rest of the month in Andalusia, Spain. This was during the first weeks of Vanlife. During this time, we have lifted every little bill and entered in a table. Not only for you as a reader, but above all for ourselves to see how much we spend on which area of life.
Vanlife Costs
A big advantage of having a mobile home is that you bring together the cost of home and car. Accordingly, you have to expect but also with fixed costs. If you live in a city, you can, for example, save your own car, if you live in your camper fulltime, you have to reckon with costs. In order to show you well what expenses we have in what areas of everyday life so, you see the cost of our Vanlifes divided into different topics. We also live in our camper for two, so we can share those costs:
Fixed Costs
For our car insurance we pay € 66 per month, the legal expenses insurance amounts to € 6.40 per month. In addition, we have decided to complete an ÖAMTC membership (€ 6.85 per month) and the ÖAMTC protection letter (1 person full and the second as partner membership) for € 10.8. The latter includes health insurance for Europe and some Mediterranean countries – such as Morocco.
In total, these costs amount to € 90.05, ie € 45.025 per person.
Parking Costs
In Portugal, we parked wild every night. Only once we were told, that we should not sleep here, whereupon we simply drove to another parking lot. So we had zero expenses for parking in Portugal!
During our day trip to Seville, we paid € 5,- for guarded parking – for the whole day. Just south of El Palmar, more specifically in Canos de Meca, he a somehow druggy local asked us for "protection money" while we were out in the surf once, so we gave him € 1,50 so he would take care of our car while we surfed. Carlos, as his name was, does not have a job in winter, because tourism is booming here only in summer…
To travel in the offseason certainly has its advantages! In El Palmar, for example, we parked with a few other campers on a simple beach car park, which once the area becomes touristy again in spring, is certainly not open to use for camping. For Portugal, too, we can imagine that it can sometimes be tight in the parking lots at the beaches. That's why we think winter is a great time to explore the South!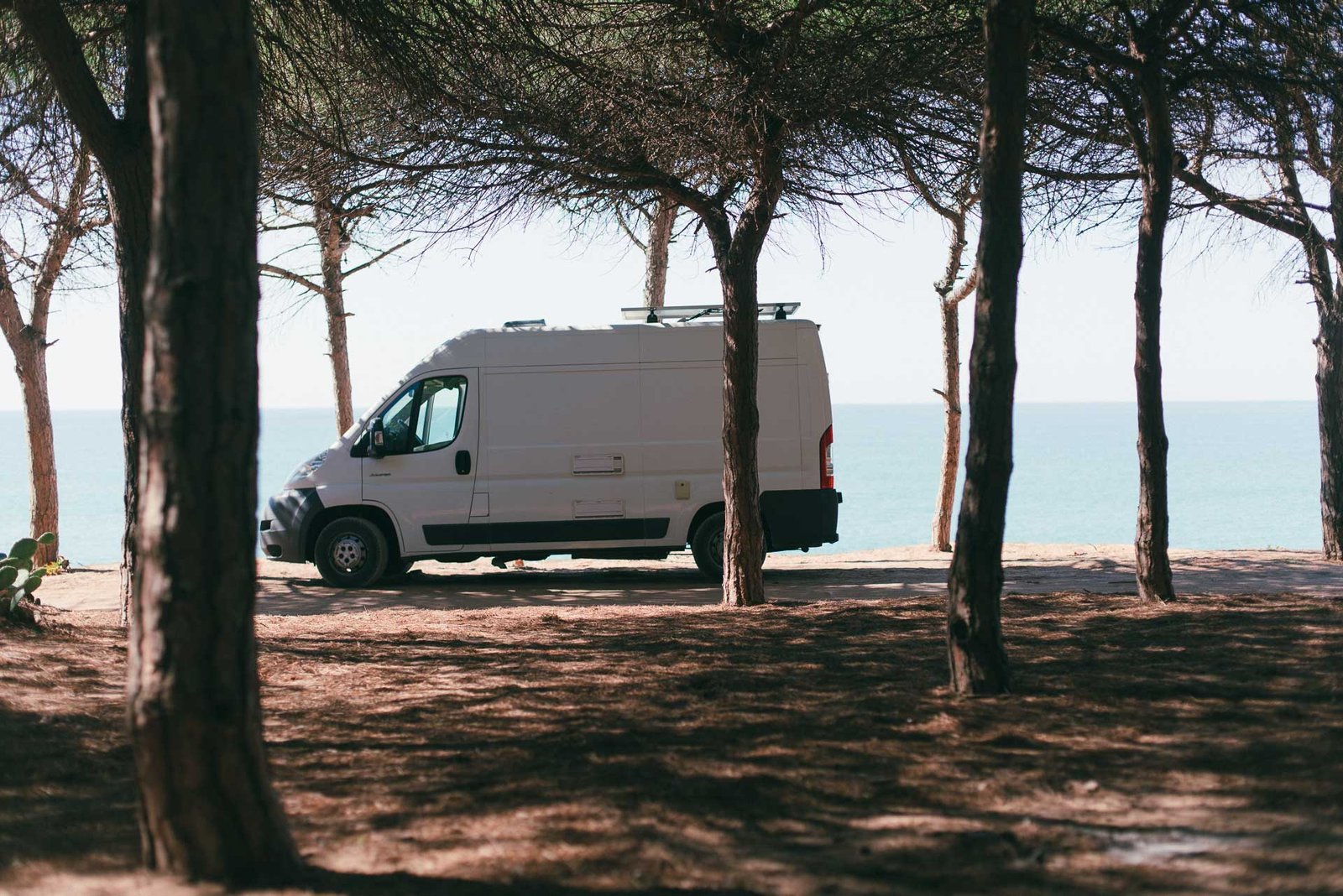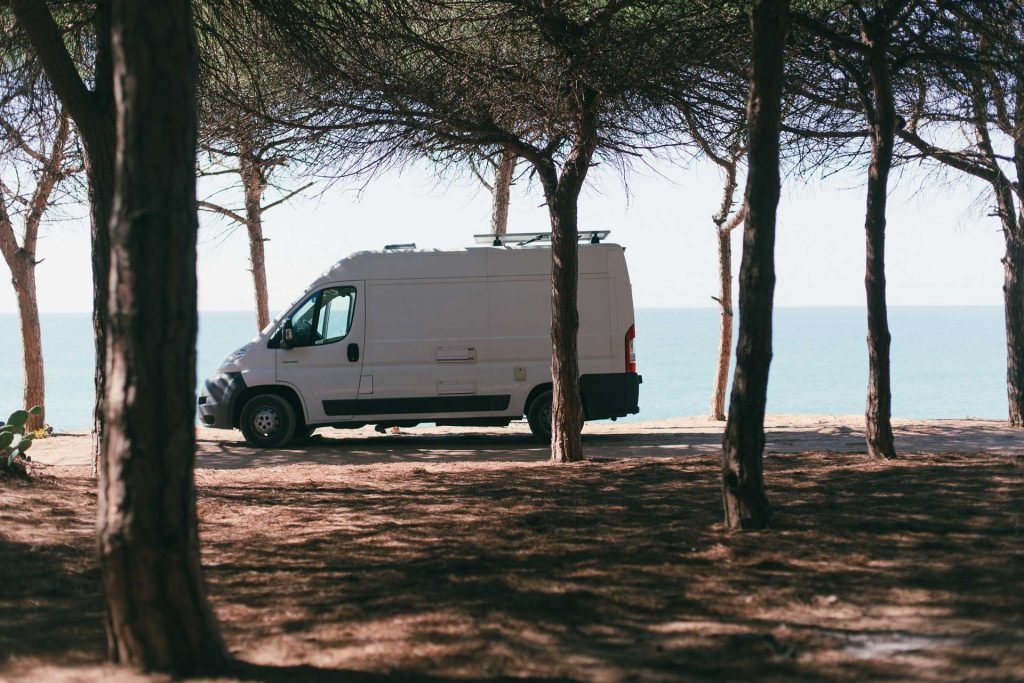 For the parking, we spent € 6.5,- in total in December.
Fuel
Generally, we like to stay a little longer in one place or area if we like it there and move into one direction. So from the Algarve, we continued to drive further east – Andalusia, Spain and there along the coast down to Tarifa. In addition to short trips (such as to the supermarket, different surf sports, etc.), we covered the following routes in our van in December:
500 km Sagres, Portugal to Tarifa, Spain
300 km El Palmar – Seville round trip
This is equivalent to a full tank of fuel – more than we would normally consume. Generally, we drive with consumption of 8-10 l / 100km. In total, we spent € 153,-  on petrol in December. That is € 76.50 per person.
Costs of Living
Food
We love to cook and prepare new dishes. So it can happen that we spend half a day shopping at the market for all sorts of things. We have set ourselves no limit here, but we are very aware of the different prices and therefore buy local/regional. We compare the kg prices. In addition, we want to state here, that we live vegetarian and therefore have no expenses for meat! In the costs below are not only food but also a few bottles of wine and a few beers included. We also like to eat sweets and Kathi drinks coffee.
In total, we spent € 235 on home-cooked meals in December. A few times we also went out to eat, possibly, even more, this month then it would be standard for us – spending € 118, – on that. This results in the sum of € 176.50 per person for food and drink.
Laundry
We were even surprised by how much money we spent on washing our laundry, including kitchen towels, bed linen, and our clothes. Three times we used a washing machine and the dryer and spent a total of € 26.90. Two times in Portugal (Sagres & Lagos), once in Spain (Conil).
That's € 13.45 per person.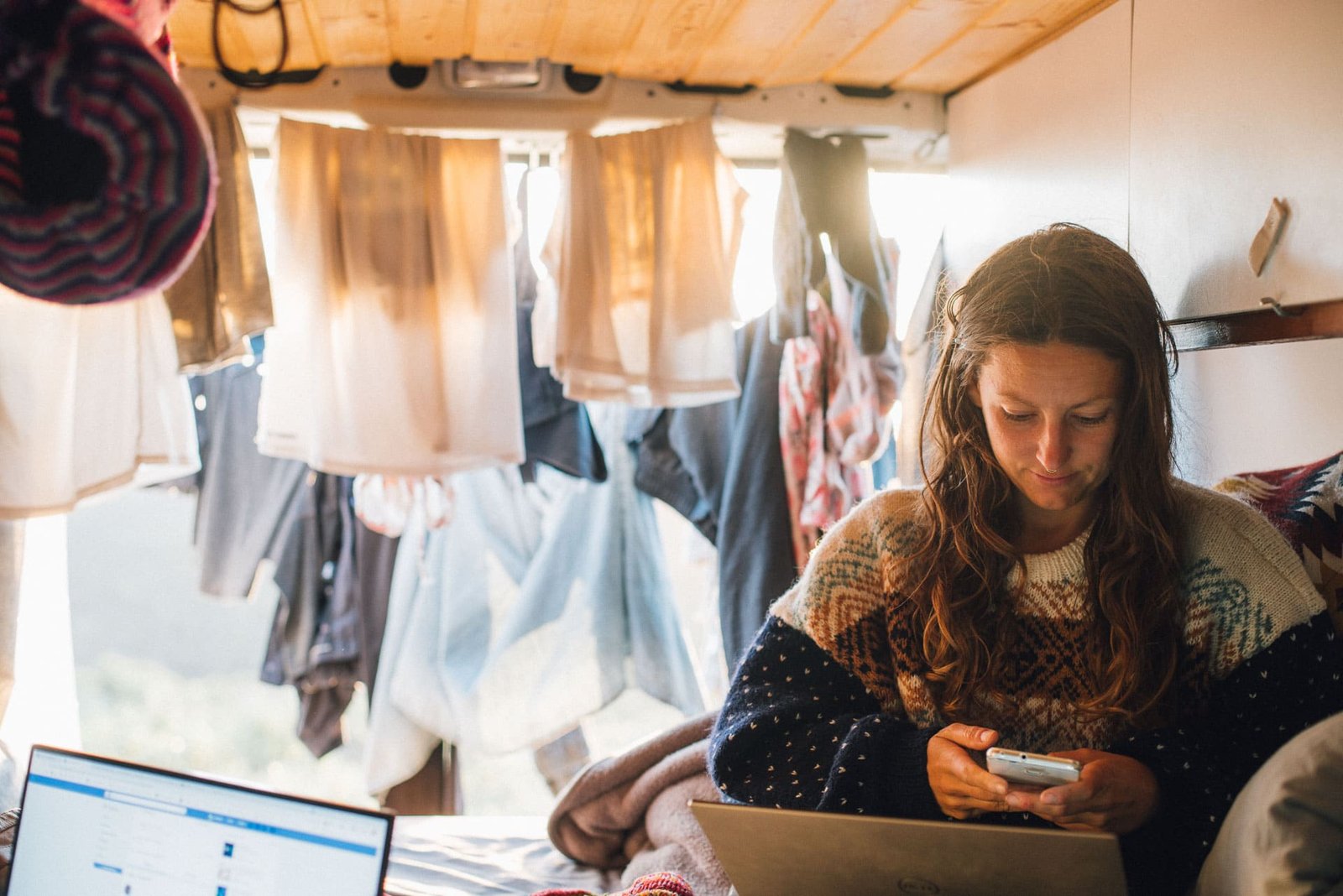 Internet
For the internet in Portugal, we purchased the Nos Livre XL. This tariff offers unlimited data volume and a very fast connection. He is also very cheap with € 1, – per day! As we find, an almost unbeatable offer, which makes Portugal ideally suited as a Digital Nomads country and Vanlife.
Unfortunately, there is no comparable offer in Spain. Here we opted for 20Gb from Lycamobil for € 20, -, the sim card cost an additional € 8, –
For the internet, we spent € 58,- in December.
This corresponds to € 29,- per person for one month.
Shower
In December we were only once warm shower and paid per person € 3,- on a campsite near Aljezur, Portugal.
Other Expenses
In Arrifana, Portugal we had heard of a very good massage therapist and therefore decided to take both a massage. For 1h we paid € 25, – each
During our day trip to Seville, we decided to visit the Alcázar as a small sightseeing excursion € 23,- Therefore we spent € 24, in total for "fun" in December.
Self Employment Costs, Insurance
Since we are both self-employed in Austria, we also pay social health care, insurance. etc. there. (pension, health insurance, self-employment provision…) in the amount of at least € 111.70 per person.
Since we no longer own a household and therefore also have no personal liability insurance, we have this extra via the VAV for € 49, – completed in the year. That's € 4.08 per month per person.
How much did I spend in a month living in the Van?
In total, while living in the Van we had expenses of € 576.50 per person in December. There are also other costs for our self-employment in Austria, which differ by the industry, that are not in these costs already!
As mentioned, we live in our camper and therefore have no further costs for an apartment in Austria. Therefore I do not have any costs related to rent, additional costs such as repairs in the apartment, electricity, gas, household insurance, etc. On the car we had no repair costs so far, but plan to cover them with renting out our little baby in Summer, during what we are gonna be in Salzburg (spoiler! 😉 – also if you are planning to register at Paulcamper use this link here and you´ll get a discount onto your first rental!) In addition, we both live very minimalist and barely go shopping. New clothes, accessories or the like are therefore the absolute exceptions. We also buy new equipment only when necessary and do not see it as a year of investment for our independence but as a monthly fixed cost.
In summary, we would like to say that we chose Vanlife for the love of the ocean and travel. Saving some money is a great side effect for us, but not primarily our goal. Nevertheless, we can say, that we are saving money while living in the Van. We will continue to gather our costs and will compare them over time and in different countries.