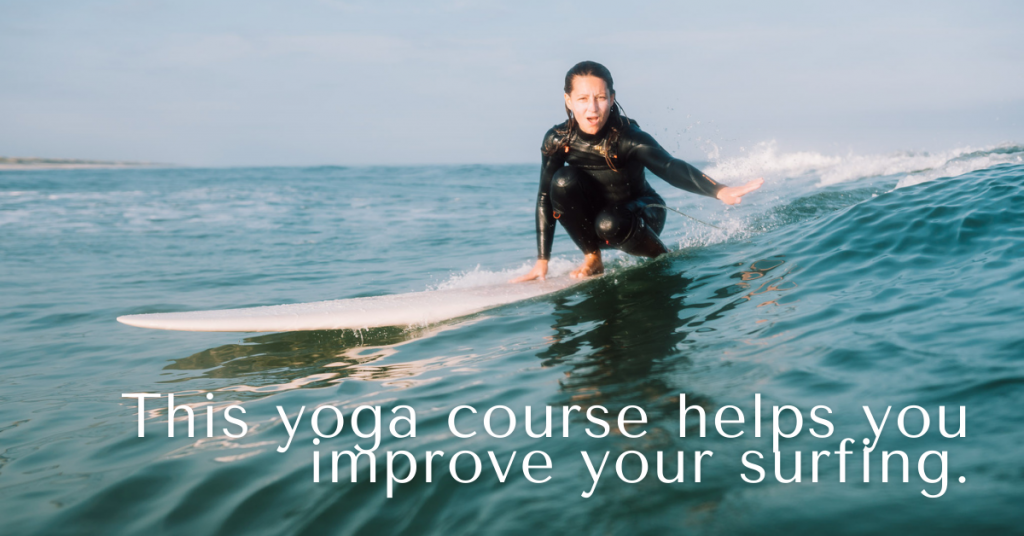 Do you want to start your surf holidays by catching waves from day 1?
Bringing your surfing onto a new level with more mobility, balance, stability, and strength?
Learn to set yourself goals and set gentle reminders with positive affirmations?
This Yoga for Surfers Course has got you covered.
Are you a surfer or someone who is learning to surf and wants to be well prepared for your surf trip or holiday? You don't have to make the same slow progress with surfing that I did. I went from getting washed and not catching a single wave to paddling out in 6ft waves and despite a lot of respect for the power of the ocean – I smashed it.
Your body hurts just from thinking of the next session and you find excuses to not surf "today". You sometimes can't make it out to the lineup and even after the surf, you feel depressed because you think you could have done better.
I know you want to be confident when going into the water, knowing that you can do this and stay in this positive mindset. You long for a surf session that makes you happy, where you make it out into the lineup, catch waves, and surf down the line. You dream of making progress and sharing the experience with others.
My 14 days yoga for surfers online course is available any time and with guaranteed lifetime access. Want to have a first taste of what the course has to offer? Check out one of the sessions for free!
If you want …
to be ready to be paddling long and strong from day one during your holidays
catch waves with the right mindset
increase balance, focus, strength, and flexibility
to target the muscle areas that are important for surfing but also make sure you get enough rest to recover and don´t burn yourself off before you are at the ocean,
then this Yoga for Surfers – Get ready for Surf Holidays Course is for you!
During the videos, I focus on alignment and clues. In the workbook and in each lesson you find more detailed information on why these yoga practices will help you so much with which part of the surf. I also describe one yoga pose per lesson in detail. The workbook includes include some pre-surf asanas to get you to read on the beach before you paddle out. The e-Book also connects the dots of Yoga and Surf and why it works so well together.
What does the course include?
14 full Yoga Video-Classes á 30-50 minutes
12 active Yoga Classes
2 passive Yoga Classes
The Peak-pose of each class is described in detail
to see how you do it right
with clues written down, to look it back up
Workbook "Yoga for Surfers"
Surfing & Yoga – connecting the dots
Pre-Surf asanas/poses for the beach
Mental preparation: How to set an intention and write down an affirmation.
Life-long access to practice again and again
Money-Back Guarantee if you´re not happy with the content
Do you have any more questions?
Don´t hesitate to write me!
You have nothing to lose and there is always room to improve.
Surfing is more fun when you're ready. So let's get started!