Whenever I tell people that I´ve been traveling through Central America, they ask me, if I hiked a Vulcan. And Yes I did. I actually hiked two volcanos. Baru in Panama and Vulcan Acatenango in Guatemala. Both of them are not active anymore, but the difference is, that close to Vulcan Acatenango is the still erupting Vulcan Fuego.
When I entered Guatemala my first stop was Antigua and my first impression was: WOW! What a beautiful town, surrounded by those stunning huge volcanos. I want to hike to the top of one them!
Recommended by a friend I got to know in Panama, I stayed in the Tropicana Hostel. And as I got close friends with someone working there, we decided to do the Vulcan Track together and book it via the hostel. Little did I know, that this would be one of the best things I did during my whole Central America trip. Spoiler: I WOULD DO IT AGAIN, AGAIN and AGAIN. It was SO worth it!
As the hostel is known to be one of the party hotspots in Antigua, I was surprised they were offering the tour and even more surprised by how good the food was. How nice and helpful, understanding and friendly our guides were. How unbelievable the view of our camping spot was. AND: That we would actually get up in the morning and do that fu*** track. I have seen so many people doing the track hangover and I was afraid I would end up like one of them. But I got away and went to bed early to be ready for a day full of hiking, a sleepless night on the campsite on top and the unbelievable view of an erupting volcano.
How it all starts.
So let us relive that two days again and start with some facts: Vulcan Acatenango is stands up to 3.976 m. This is the volcano that you´re gonna hike up, while Volcano Fuego is the one that still erupts. The hike will start at around 11 am, after a pancake breakfast at the hostel and a 1h ride to the starting point. Here you will get handed over the sleeping bags and the tent from the group that stayed at the volcano the night before. You can also bring your own material, but this is included in the price anyway and in good conditions.

The hard facts.
The tour costs 48 USD. Again: this is so worth it.
What to bring:
Warm clothes and hiking boots. I did it in my running shoes which was also fine. It is really cold up there and windy as well. So make sure you have a beanie and a wind jacket as well. Plus clothes to change on top after the hike.
A lot of water! At least 4 liter. I have a camel bag, which comes super handy!
chocolate or cakes to keep you motivated. And some Granola bars!
A backpack to carry parts of the tent and the sleeping bag
Let´s get going.
The first part of the track is the hardest one. Because you actually walk steeply up on volcano dust, which makes it feel like you are doing one step ahead while sliding back two. If you get through this one without hiring a local to carry your backpack, you can make it with it to the top. Trust me. It is doable. I carried mine all by myself 🙂 BUT have to admit: I did not have to take any parts of the tent. Probably because I am only 1.57m tall and they thought that it would be fair to give the toned looking boys more weight. HAHA
The second part is also steep, but in the woods, protected from the sun and on more concrete ground. I enjoyed that part a lot, because you walk in the shade of the forest and it is very interesting to see which different types of trees exist on that ground.
The last bit is the most beautiful one in my opinion. Because the view is simply stunning. I had to stop several times to take some pictures: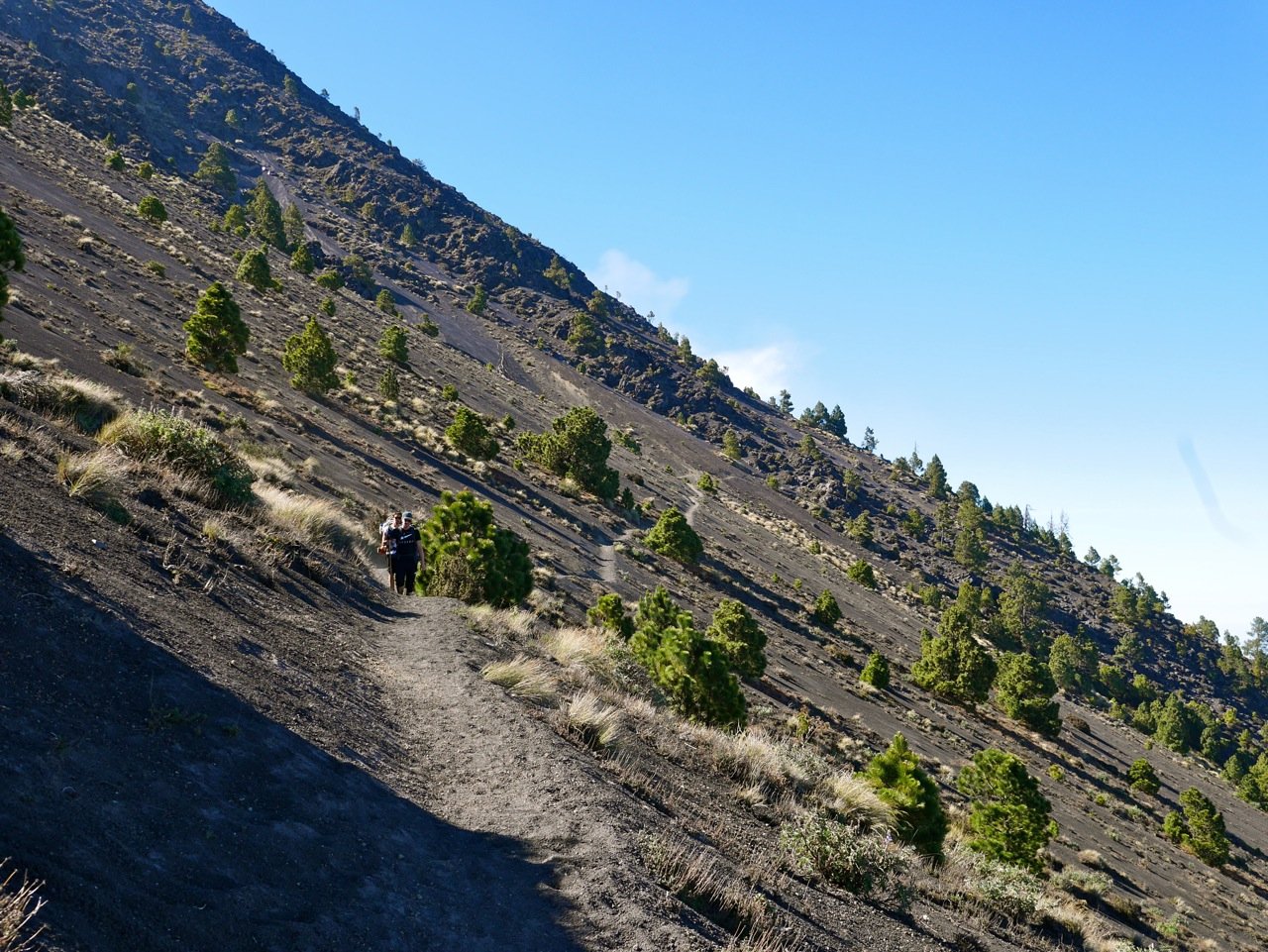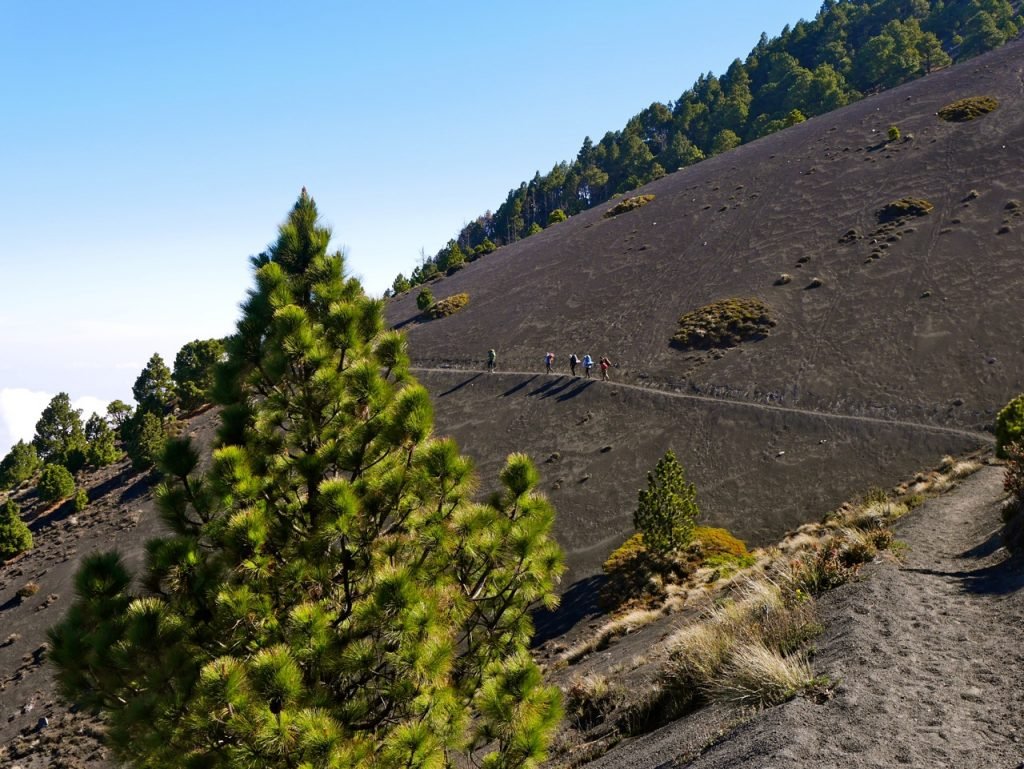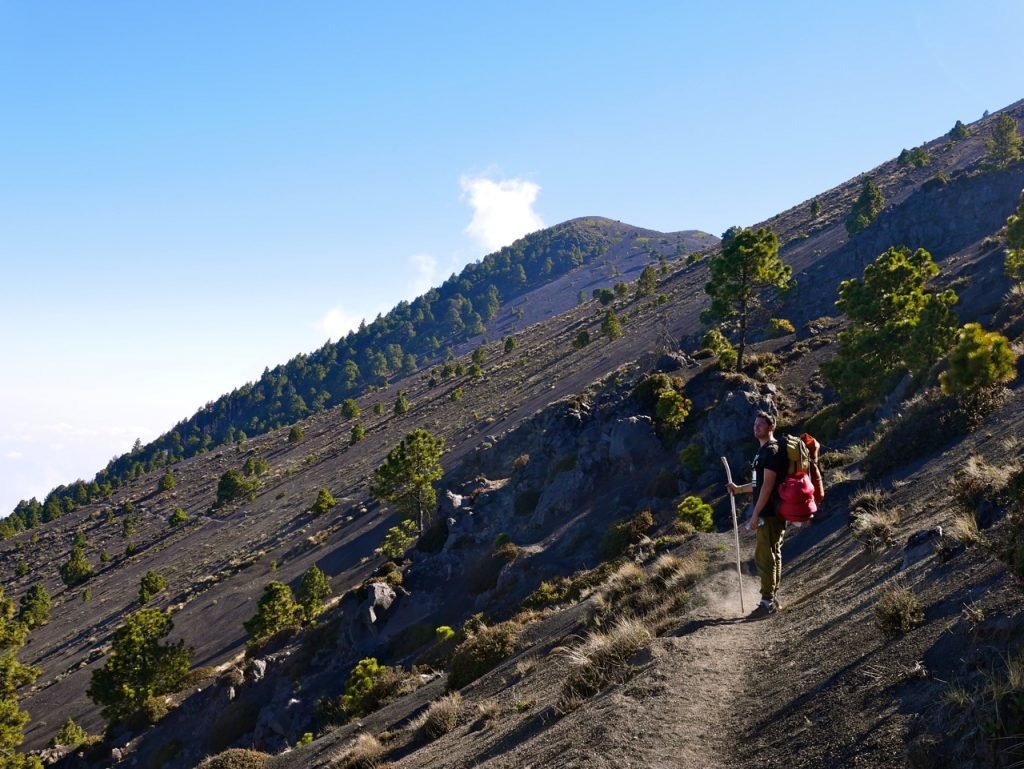 After that part you reach the camping ground, where you set up your tends and your tour guides make a bonfire. Make sure you change into dry clothes to avoid getting ill from the cold and the wind that's gonna surprise you once the sun said goodnight.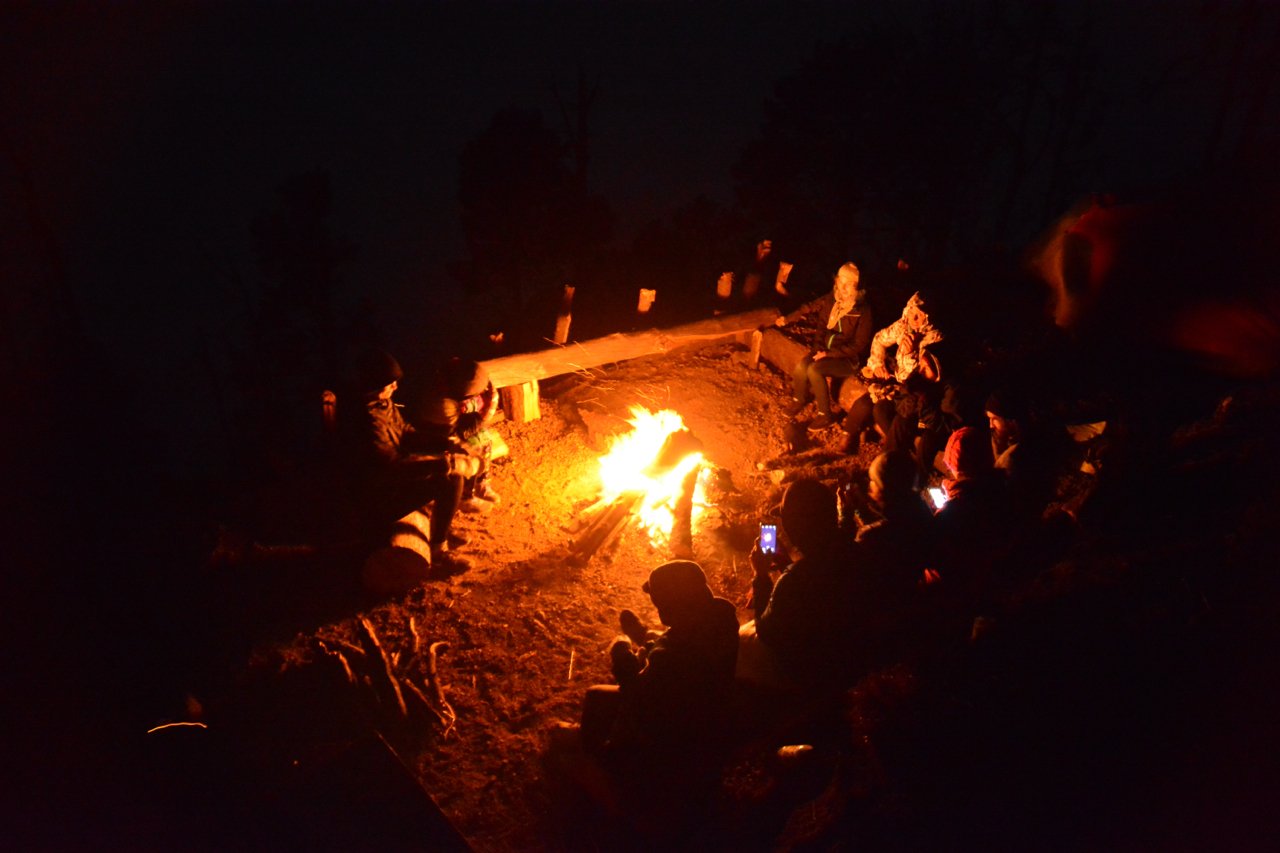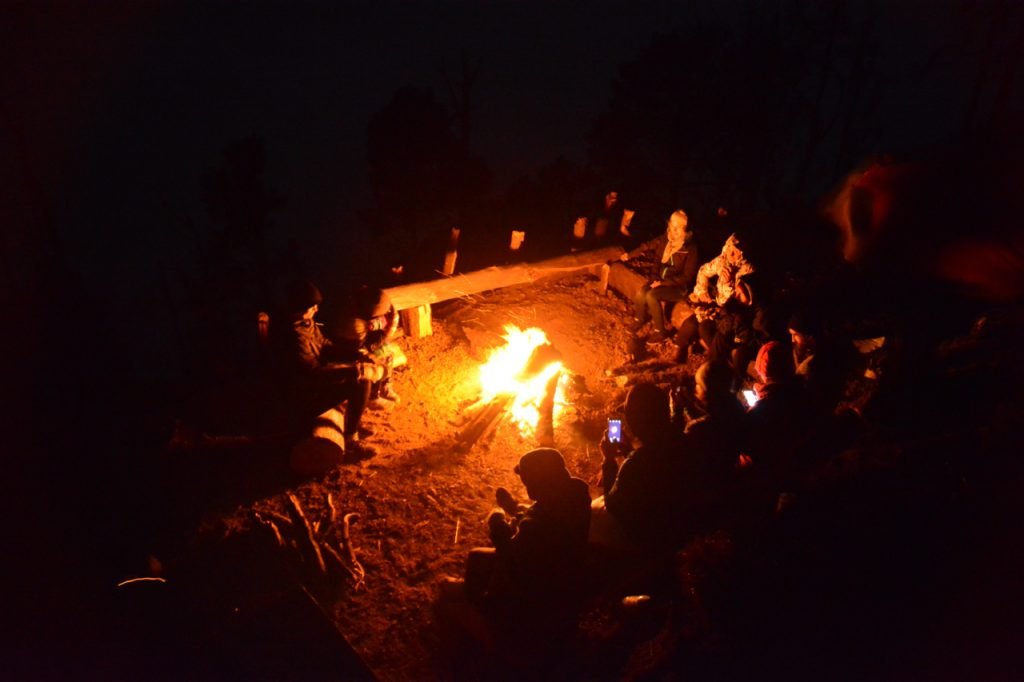 After Dinner and a hot chocolate it is up to you. Wait for the next eruption? Or go and sleep to be fit for the summit in the next morning? It is definitely worth staying up – at least for a bit – to see the nature showing you its strength.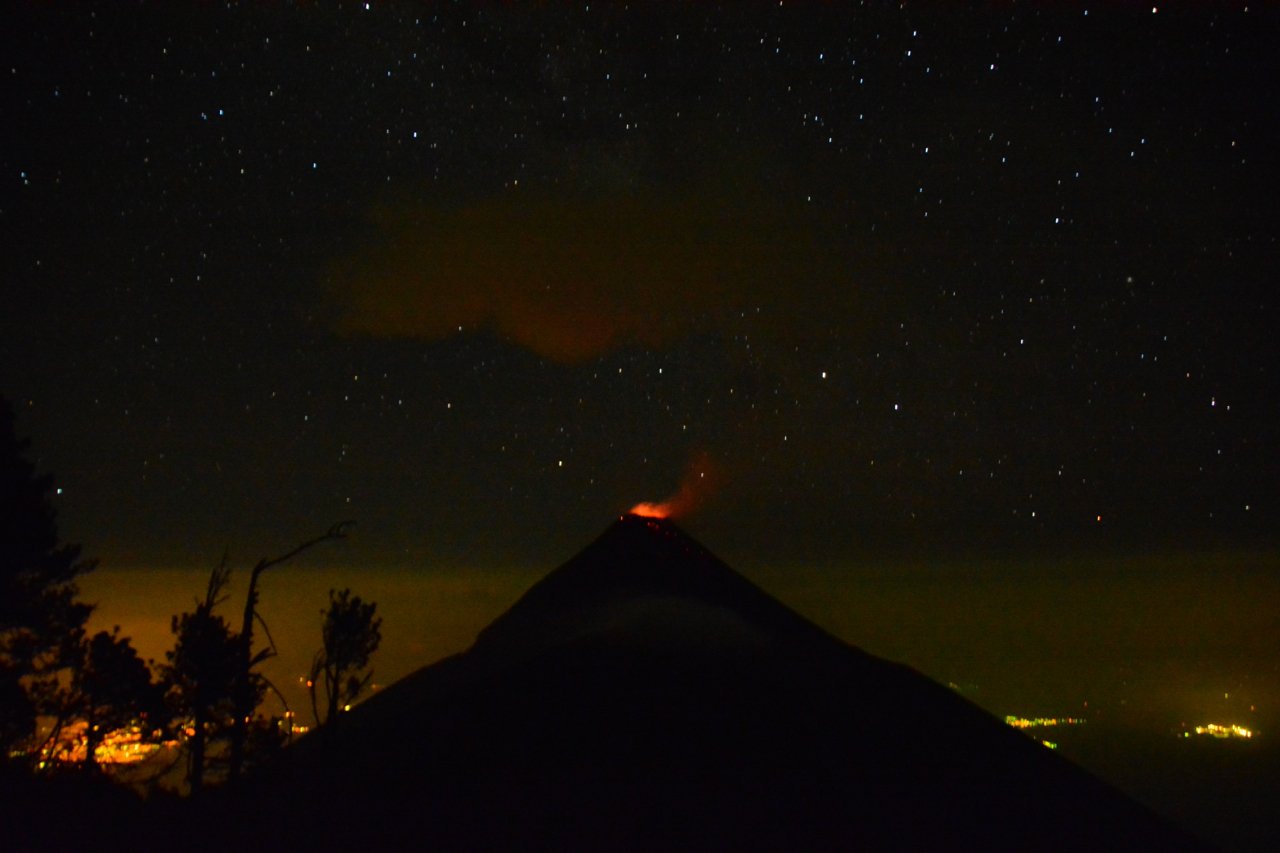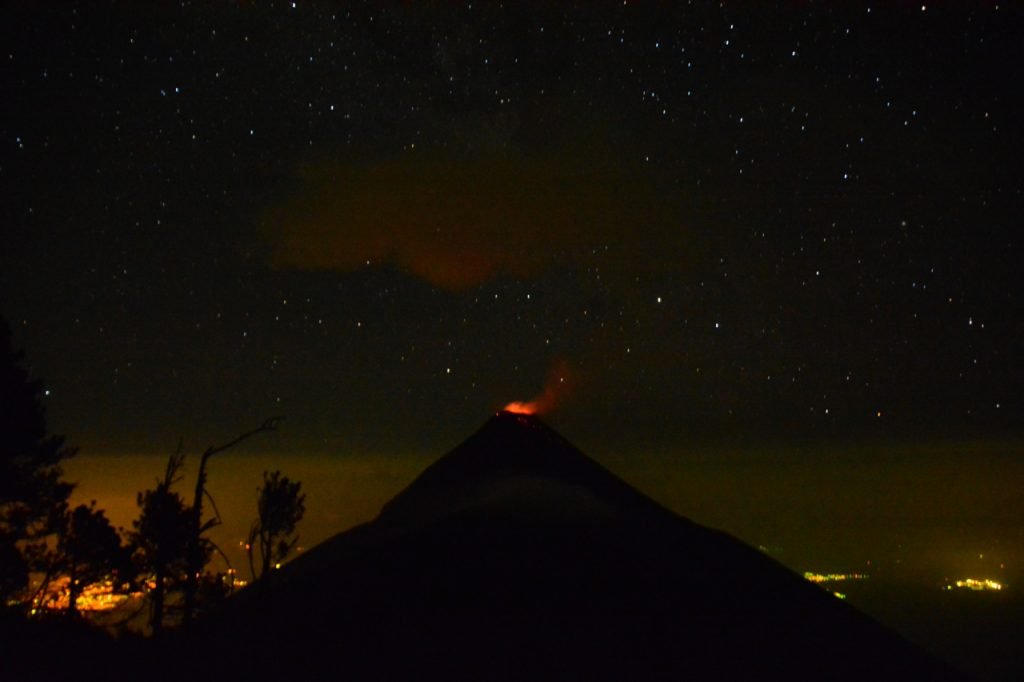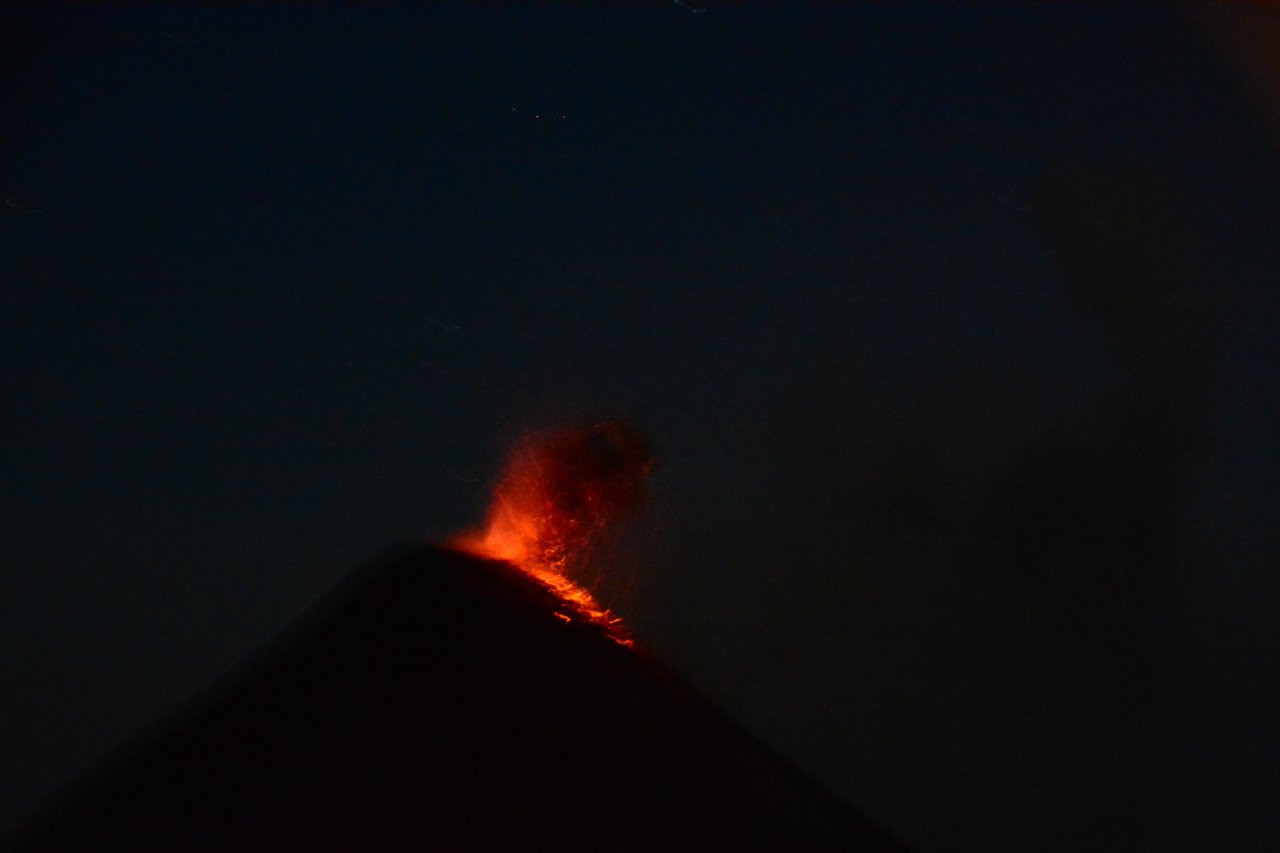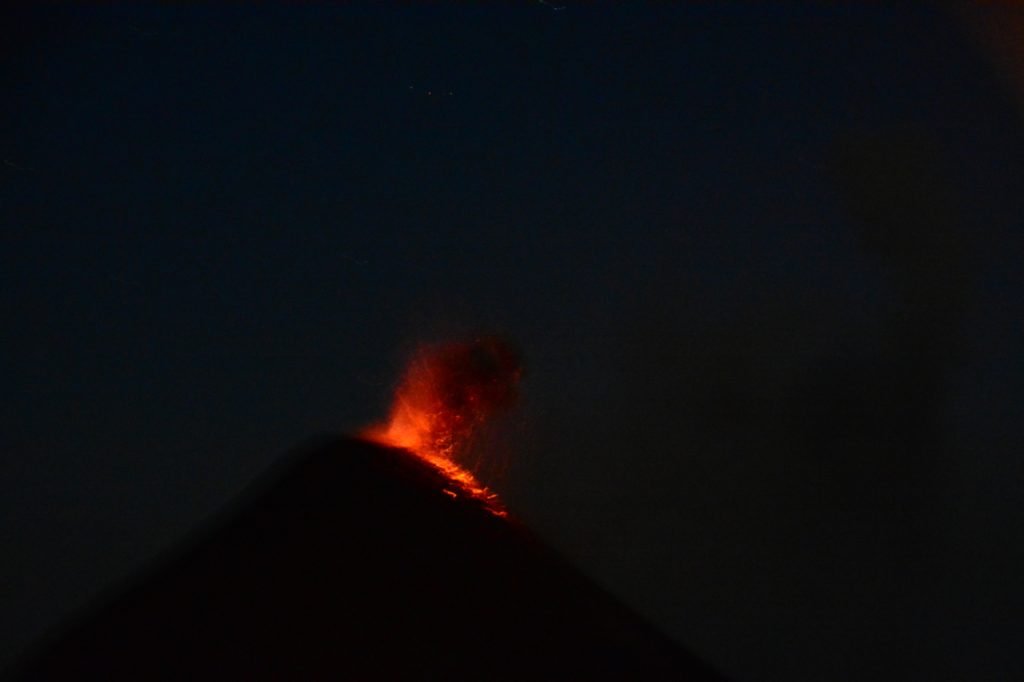 In the morning you get up before sunrise to see it from the very top bit of the volcano.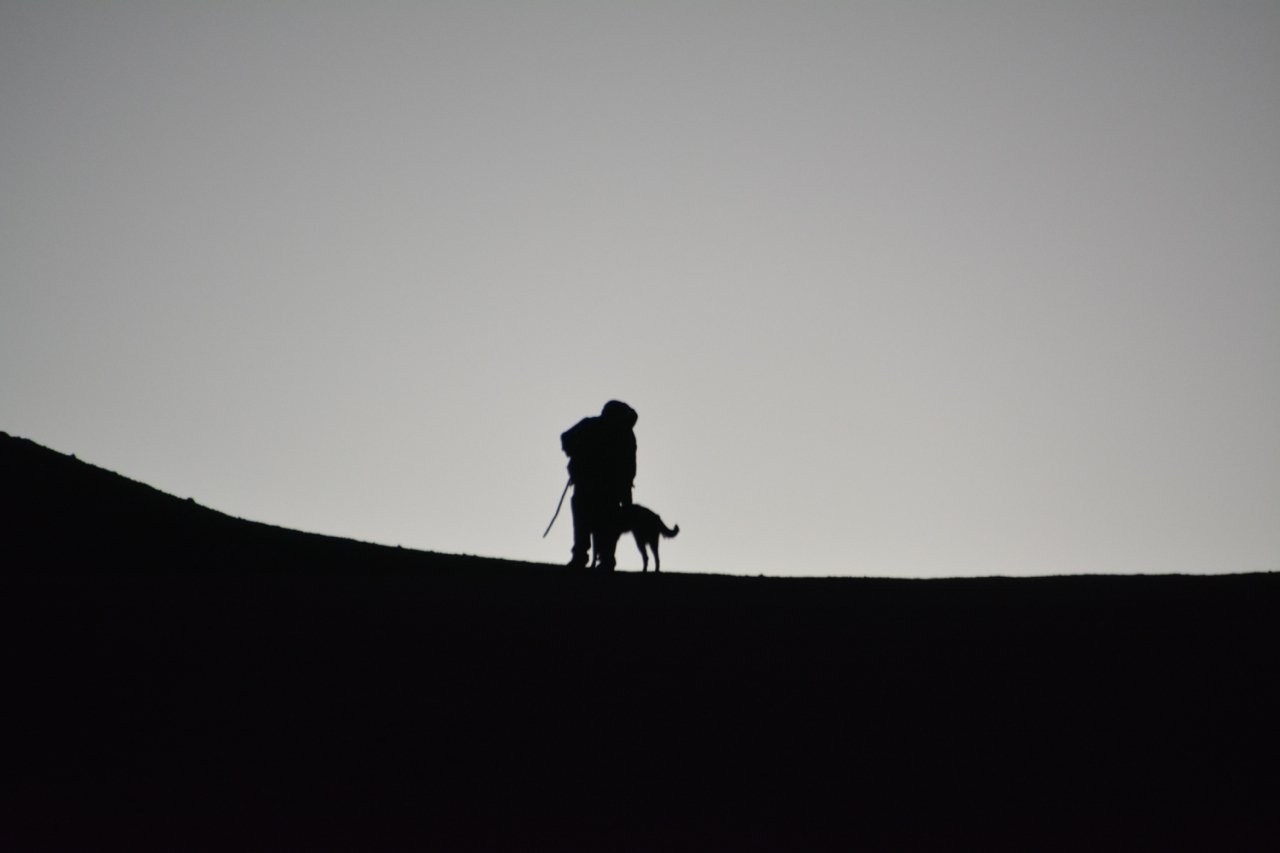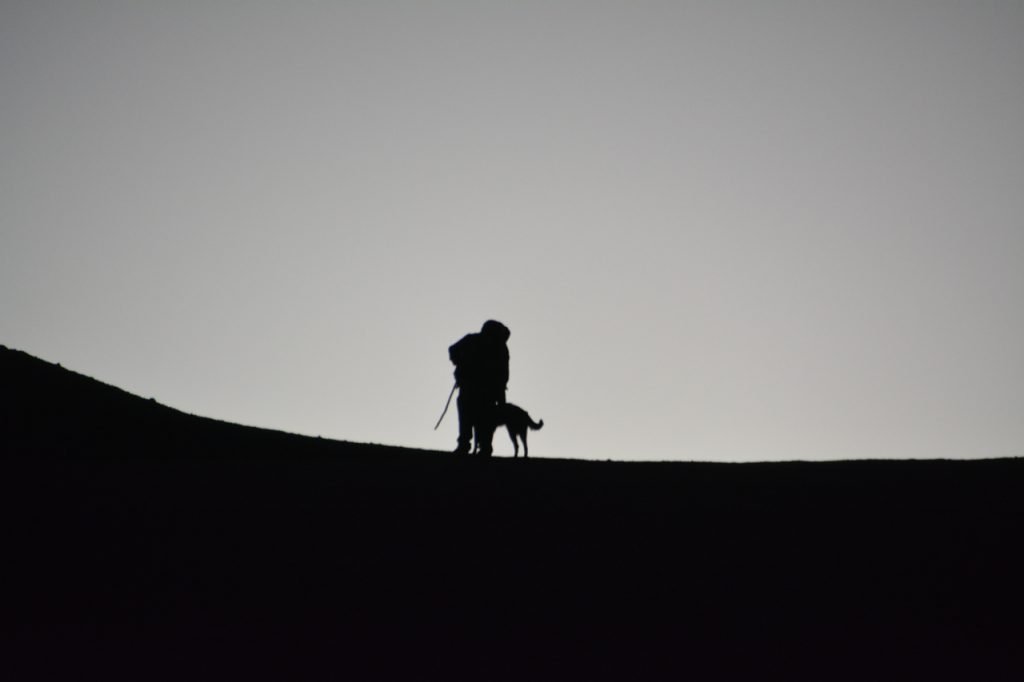 All the night pictures were taken by the lovely Alex von Hagen. Thanks to Laura and Alex, Kane and Hayden. I definitely found a friend in all of you while doing that track. PS: This is not a sponsored post. I experienced that track because I wanted to and I would pay the same amount of money or even more to do it all over again. 🙂
Some tips at the end…
I have been really lucky with the weather and the eruptions. If you wanna do the vulcan, do some research for the best season (not too cold, because it is gonna be even colder up there) and try to stay flexible with the days of your hike, because you don´t wanna go in the mud, because it is raining all the time.
I really recommend to go with a guided tour. There are different paths where you can get lost and it is not worth ending up at the wrong side, just to save some coins.
You will never know what your body is able to if your mind does not believe. Don´t give up to soon and keep yourself motivated, e.g. by listening to your favorite music.